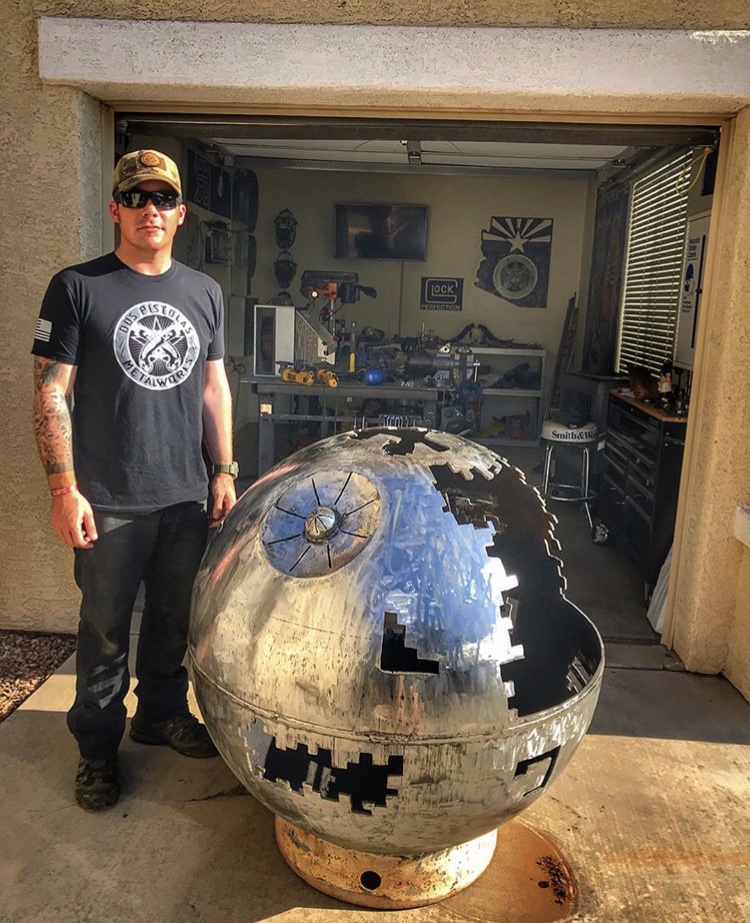 Today we are excited to spotlight one of our favorite metal artists, Eric Harristhal. Some of our Instagram followers are sure to have seen some of his incredible work reposted on our page in the past under his Dos Pistolas Metalworks account. His metal Empire Abrasives logo is actually what inspired us to start our metal art hall of fame shelf in the office!
Eric is constantly making new art pieces with his unique artistic point of view. On his page you're likely to see pop culture-inspired work with his own twists, steampunk/Tim Burton style mashups, and plenty of entertaining posts.
You can tell he's always pushing his abilities to higher levels by trying new things like the incredible detail on the Edgar Allan Poe (pictured below) or his functional metal artwork like a working steampunk smoker, a Death Star fire pit (pictured above), and one of our favorites…the bottle opening, beer cooling, and "self draining" Bender from Futurama.
---
Tell us about yourself...
My name is Eric Harristhal, I am a self-taught metal artist that runs Dos Pistolas Metalworks in my spare time. I live in Tucson, AZ, and create metal art in my home garage.
My work can be found at @dospistolasmetalworks on Instagram or www.dospistolasmetalworks.com. My online store is located on Etsy at https://www.etsy.com/shop/DosPistolasMetalwork.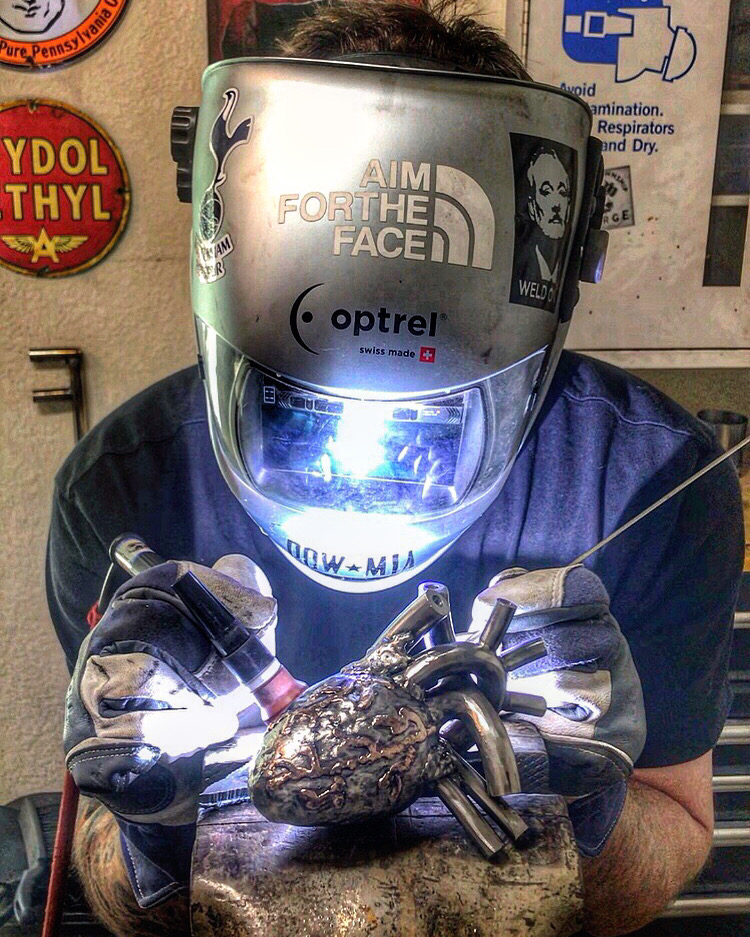 How long have you been making metal art?
I have been making metal art for about 6 years, I am a self-taught artist, TIG welding and blacksmithing are my two favorite processes.
What is your favorite Empire Abrasives product?
Empire Abrasives 120 grit 4 1/2" flap discs are my favorite product, I use them more than anything else. I use these flap disks to create fine detail in my sculptures.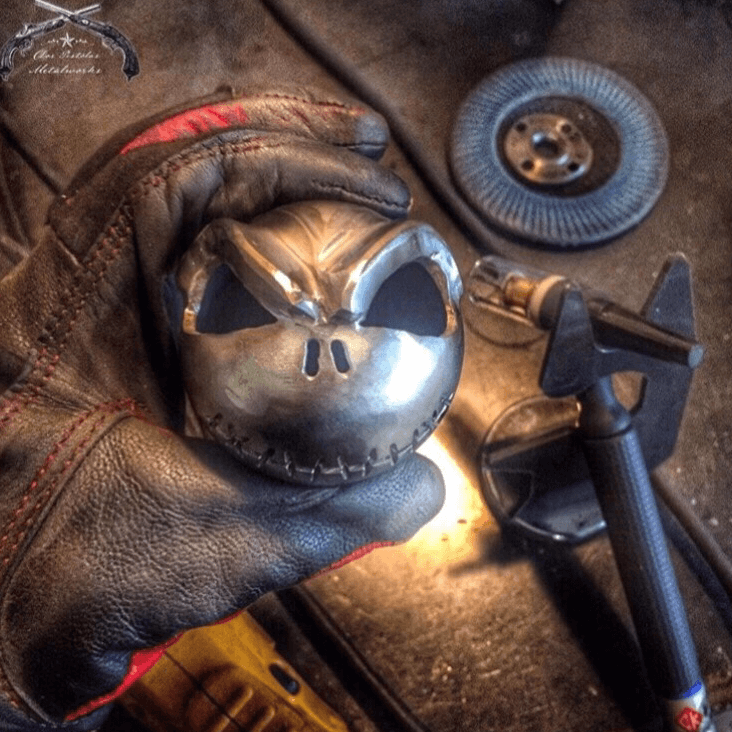 Do you have a dream tool for your workshop?
My dream tools would have to be an AC/DC TIG welder and a power hammer.
What is your favorite piece you've created?
My favorite piece would have to be my Edgar Allan Poe sculpture, some pieces will just never be for sale.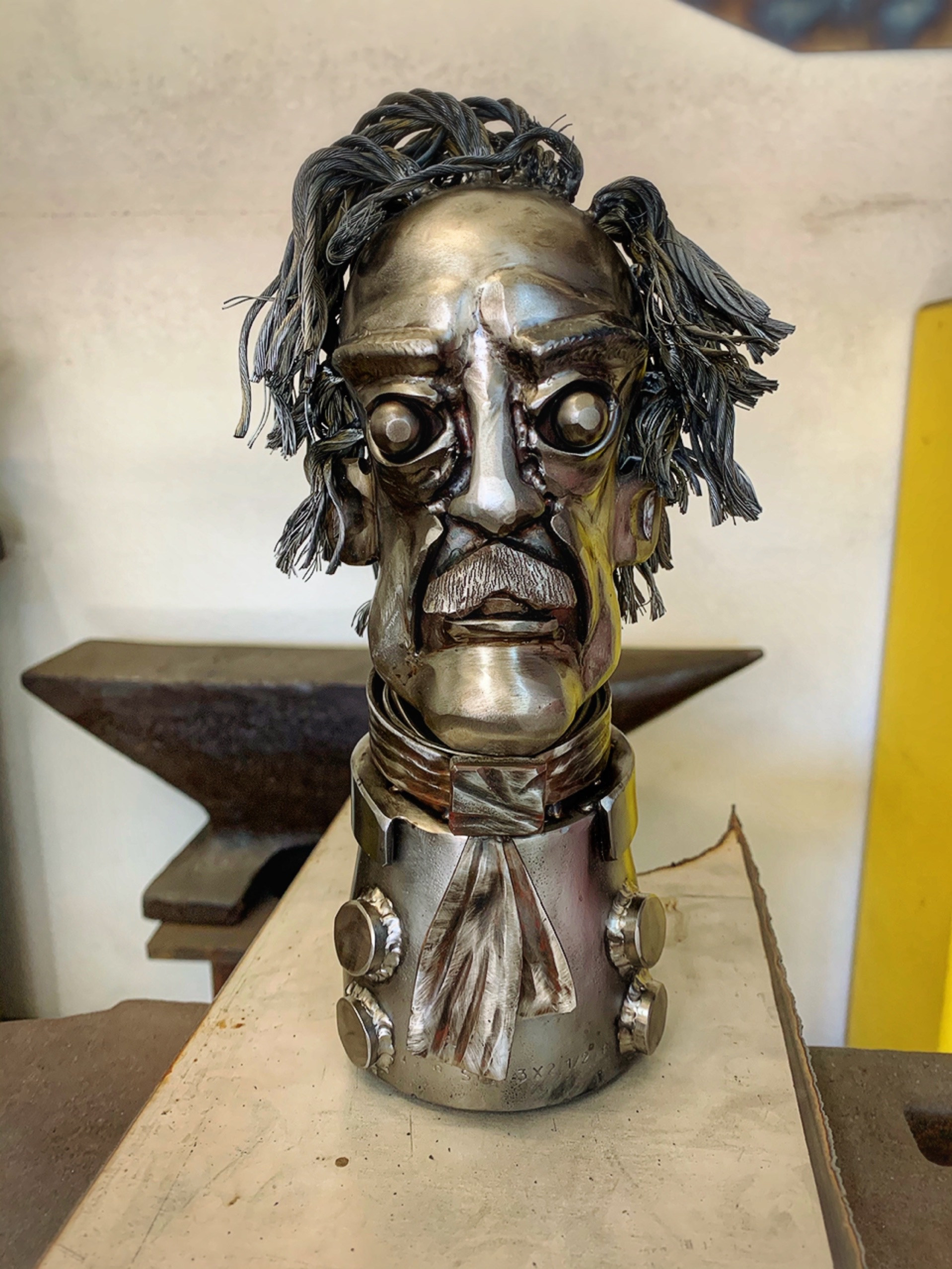 How much time do you dedicate each week to this?
Dos Pistolas Metalworks is not my full-time job. I have a 'day job' in federal law enforcement, I do metal art about two days a week because I love it.
Do you have a particular process and/or planning stage for some of your more intricate work (for example, the exceptional detail on Edgar Allan Poe or the hilariously, yet useful Bender cooler), or do you find your way as you are working on a piece?
I'd say I always start with a plan, but that plan usually changes during the build. Especially a piece like Poe, that plan changed several times to make him look correct. Including chopping off his chin a few times until I got it right.
---
Eric, thank you so much for your continued support! And thank you so much for the amazing Empire Abrasives logo you made us (pictured below)!
Make sure you're following Eric on Instagram at @dospistolasmetalworks and maybe even order some of his work from his website and Etsy shop - www.dospistolasmetalworks.com / www.dospistolasmetalworks.com