We are excited to announce three new products to our always-growing line of abrasive products. These new wire brushes are brass coated steel, designed for metal surface cleaning and finishing with the added benefit of protecting vulnerable surfaces. These new additions are useful for a wide range of industrial, construction, and home DIY projects.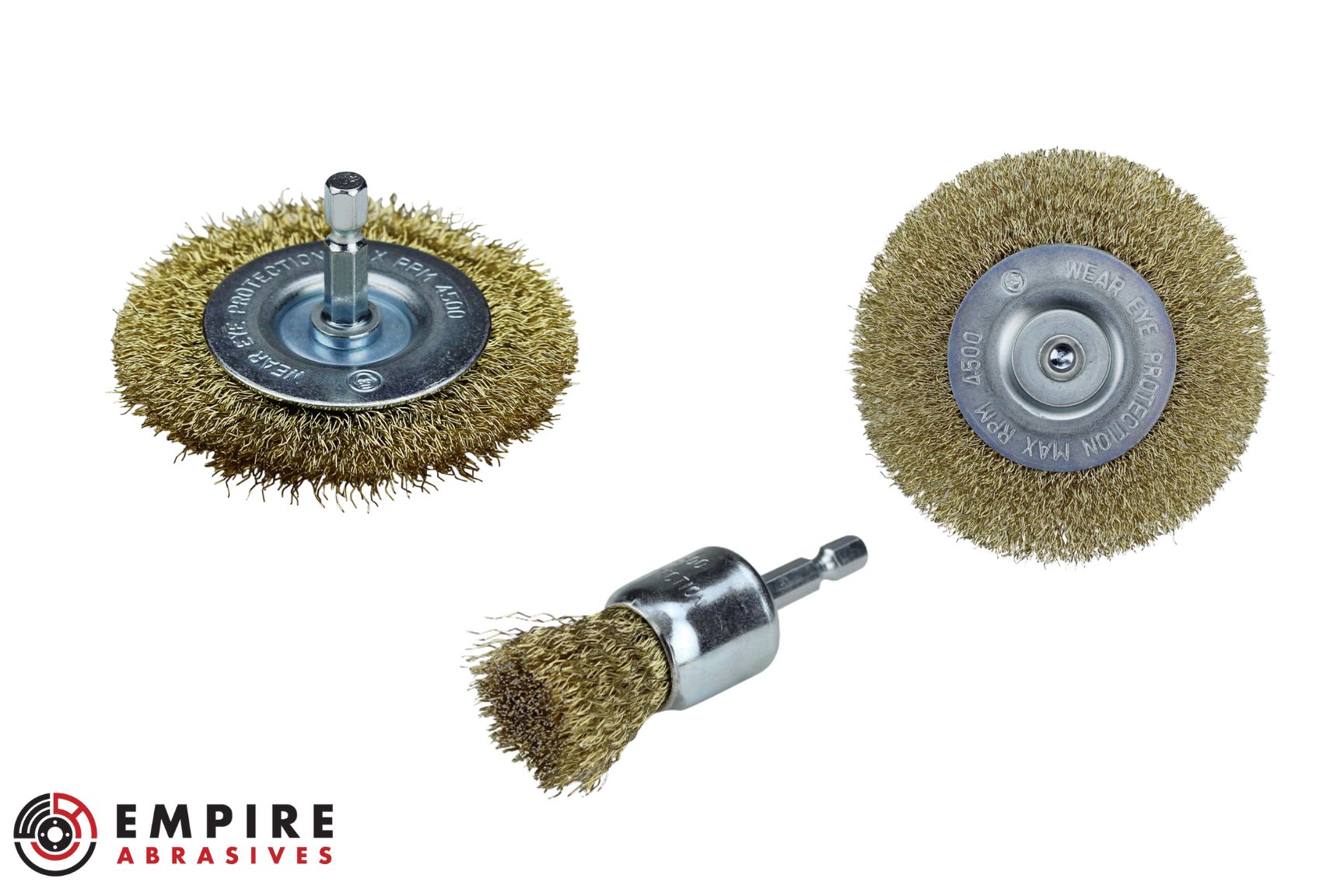 The brass coating on these wire abrasive products is more pliable than traditional carbon steel and stainless steel end brushes. The combination of steel wire with brass coatings make them strong enough to remove rust and other contaminants from different metal surfaces*, but soft and pliable enough to avoid damaging the underlying surface. This makes them excellent tools to use on delicate or valuable objects like antiques or automotive parts. The crimped wires on all three allow for maximum surface contact and efficient cleaning and to easily blend edges and remove burrs.
*Please note - none of these are recommended for use on stainless steel surfaces.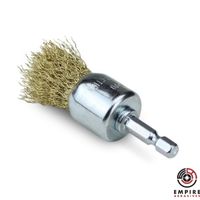 Our new 1" Brass Coated Crimped End Brush with 1/4" Hex Shank is ideal for precision cleaning and finishing metal surfaces, removing rust, paint, and other contaminants from metal surfaces. The compact size and 1/4" hex shank of this wire end brush makes it easy to use in tight spaces and offers more control when attached to a compatible tool such as impact grinders, die grinders, and impact drills. This makes it valuable for anyone working with metal parts, whether at home, in a metal workshop or on a construction site. The 1" brass coated crimped end brush is particularly useful for projects requiring intricate detailing, where a wire wheel may not be able to reach or may be too aggressive.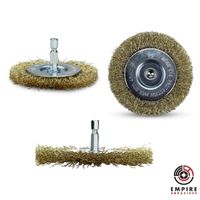 The second and third products we just added are our new 3" and 4" brass coated crimped wire wheels, both with 1/4" hex shanks as well. These brass coated wire wheels are also excellent tools for cleaning up metal surfaces, but best when you don't have intricate surfaces to work on and would prefer a quicker cleanup than an end brush can supply. The brass coating allows it to gently remove rust, paint, or contaminants, but is soft and pliable enough to do so without scratching or damaging the metal underneath. The 1/4" hex shank of these wire wheels allows them to be easily attached to compatible tools such as impact grinders, die grinders, and impact drills. Thanks to their durable construction and versatility, these wire wheels offer a superior price to performance ratio.
Our new brass coated wire abrasive end brush and wire wheels are valuable and useful additions to any industrial, construction, or home toolbox. They provide superior cleaning and finishing results while being gentle enough to use on delicate or valuable objects. The 3 inch and 4 inch brass coated crimped wire wheels offer efficient cleaning and are ideal for deburring and finishing work for larger surfaces. On the other hand, the 1 inch wire end brush is a compact and versatile tool that can reach tight spaces with precision when you need it. These abrasives are built to last and provide excellent value for the price.
If you have any questions or need assistance in selecting the right abrasive products, don't we are always happy to help. We are available during regular business hours by phone and website chat and also by email outside of business hours.