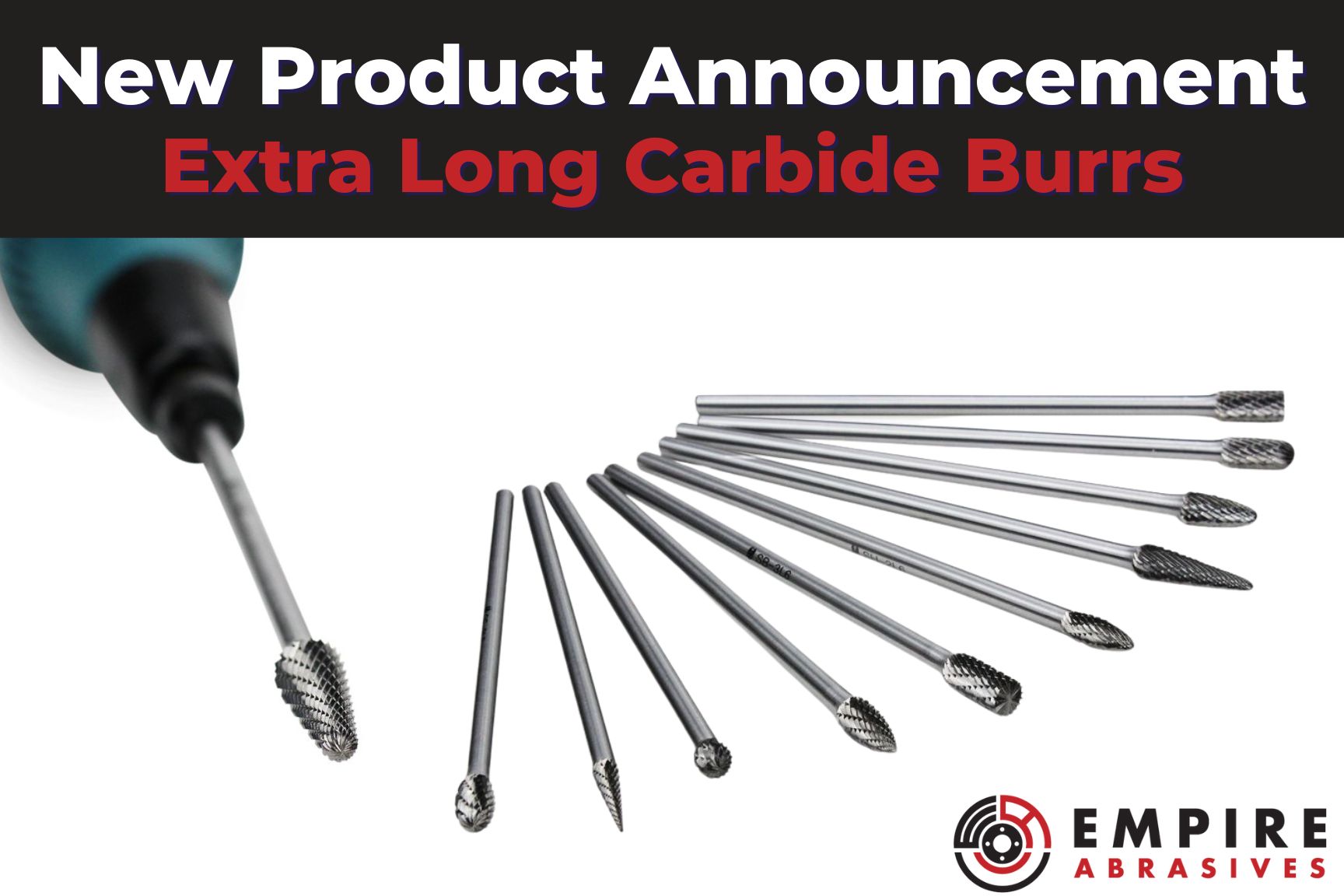 Our customers have been raving about our original line of tungsten carbide burrs ever since we released them. Many of our customers have also asked for a solution to help them with projects requiring some extra reach. Well, we are excited to announce we have added 6" extra-long carbide burrs to our catalog to do that!
What is a Carbide Burr?
Tungsten carbide is the hardest metal in the world, second only to diamonds as the hardest material. This makes them ideal for cutting and grinding metals and other materials easily, while ensuring a long product life due to their hard-wearing nature. Carbide burrs consist of a rotating shank with an abrasive head used to cut, shape, grind, drill, and remove sharp edges and excess material from workpieces.
Empire Abrasives New 6" Tungsten Carbide Burrs
Our new 6" burrs offer our customers additional options for a variety of applications. With their longer shafts, the new carbide burrs allow you to get the same clean and fast cutting action of our smaller burrs, but now in deeper and harder to reach areas.
The extended shafts don't compromise on balance, thanks to Empire Abrasives' focus on high-quality manufacturing. Our burrs are manufactured to ensure uniform weight distribution for a smooth operation, allowing for deeper work without sacrificing control or efficiency.
Silver Welding for Enhanced Strength
Moving beyond the industry-standard copper, we've opted to use silver to weld the head and the shank of our burrs as we've done with our original line of burr bits. The difference not only ensures a stronger bond between head and shaft, but also contributes to the burrs' durability and lifespan.
Precision Flute Manufacturing
Our burrs' flutes are produced using five-axis CNC precision cutting. This advanced manufacturing process creates uniformity, balance, and vibration-free cutting, leading to smoother operations and cleaner finishes.
Double Cut Design
This new line of long shank carbide burrs is all available with double cut designs, also known as a cross cut. This pattern is created with a crisscross of cuts made in the burr head, creating two sets of diagonal lines intersecting each other across the head. Double cut burrs create smaller chips for smoother finishes and minimizes tool chatter. This all leads to greater control and less work time.
Carbide Burr Shapes and Their Applications
Depending on what your main goal is with our carbide burrs, we have all of the shapes to help you complete any task. Below are the different shapes and examples of their most common applications:
Ideal for flat and contour work, the cylinder shape gets you a clean, smooth finish. It's a popular choice in metalworking or woodworking for even surface removal, providing a streamlined approach to leveling and shaping.

Designed for contour finishing and narrow area work. The cylindrical head with a cutting edge on the top allows for quick removal of material, making it a great tool for tasks like slotting, cleaning rectangular openings, and bottom contouring narrow areas.

Also, sometimes known as the bull nose shape, this shape provides benefits of the cylinder and ball shape burrs. Often utilized in fabrication or welding shops, its precise cutting ability delivers clean and consistent finishes for contouring, surface smoothing, and edge rounding.

The ball shape is highly versatile and finds use in a myriad of crafting needs. From deburring and rounding edges to controlling metal removal, it offers a balanced approach to various tasks.

The oval shape shines when it comes to contouring and blending tasks. An ideal choice for die makers or any professional seeking balanced material removal, it paves the way for a smooth, seamless finish.

These burrs are exceptional for grinding and shaping rounded edges. A favorite among woodworkers and metal artists, the rounded tree shape facilitates the creation of smooth lines and curves.

The sharp point of this shape enhances accessibility in narrow areas, making it the perfect choice for engraving or detailed metal removal in tight spaces.

Best for intricate carvings and detailed work, the flame shape is widely used in carving industries and detailed metalworking. Its precision control facilitates the most detailed tasks.

The taper shape excels at contouring and edge work. Perfectly suited for precise crafting like jewelry making or engine porting, it focuses on targeted material removal.

Ideal for rounding edges and surface finishing, the cone shape provides superior control. It's perfect for metal artists or woodworkers looking to add smooth curves to their work. With a tapered point and wide base, it provides a variety of cutting angles.

Ready to transform your work with our fancy new products? Click here to check out our selection to explore the new 6" tungsten carbide burrs. If you still have any questions, our abrasives experts are here to help. We're available during normal business hours by phone, email, or website chat, or you can leave us a voicemail or email in the off-hours and we'll get back to you ASAP.