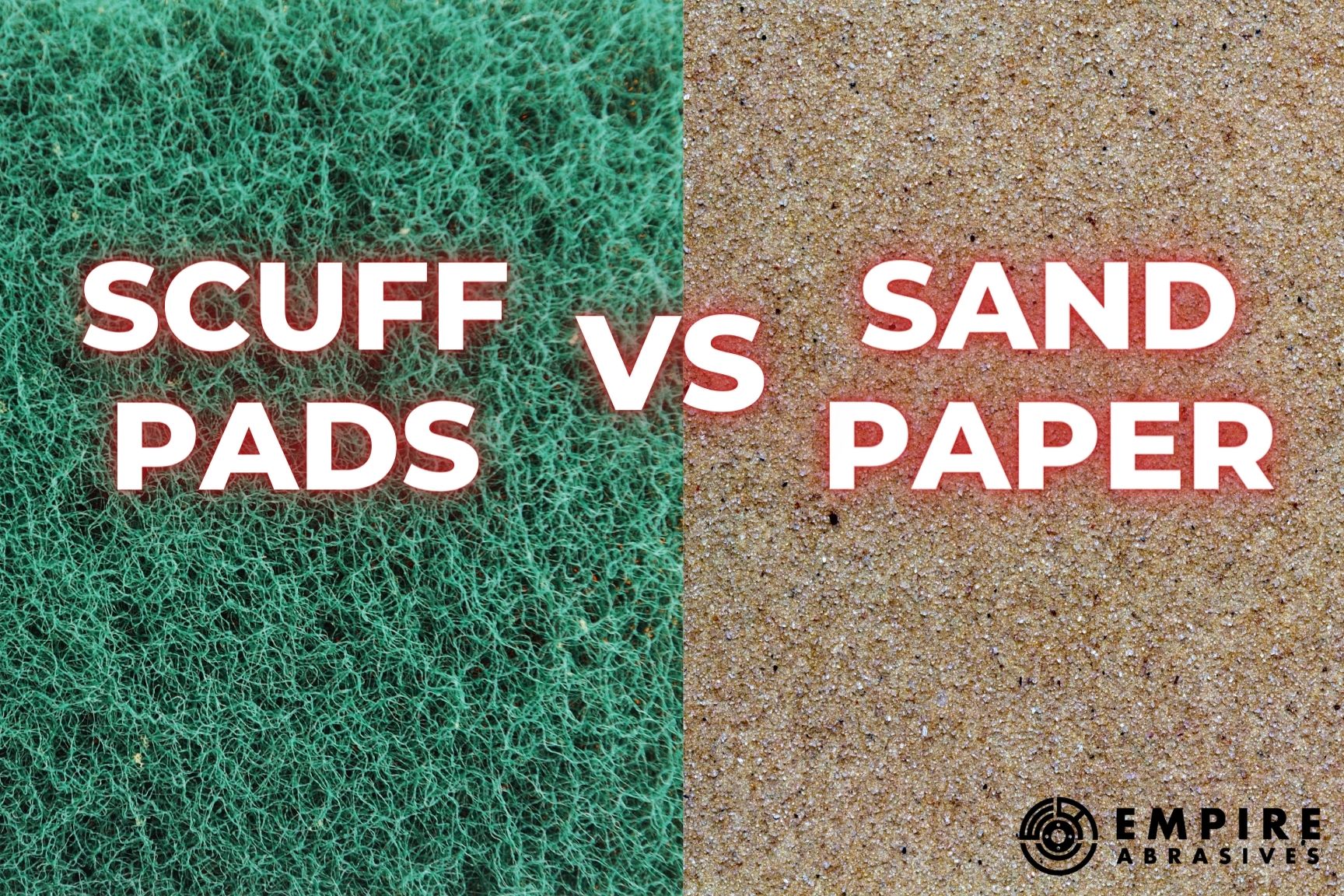 When it comes to surface conditioning products, we get a lot of questions about which type of material is needed for different jobs. Scuff pads and sandpaper are two choices, but each one is best suited for different things.
If you're unsure about deciding between scuff pads vs. sandpaper, here are some essential differences between them and when it's best to use each one.
Scuff Pads
Scuff pads are a type of surface conditioning and finishing product. They are made from a non-woven synthetic webbing and are used to clean, finish, or polish a surface. The structure of the webbing prevents heat from building up, prevents loading/clogging, and prevents discoloration of the surface. The material also has the added benefit of being usable with water.
In addition to cleaning and polishing, scuff pads can be used for finishing and linishing. Linishing is the process of sanding or grinding to even out a surface. This process of linishing removes any flaws from the surface and also makes the surface corrosion and tarnish resistant.
Scuff pads and similar surface conditioning products come in many forms:
Surface Conditioning Flap Disc
These discs are also made from non-woven material. The material is adhered to a backing, and individual flaps are laid overlapping and forming a disc. This overlapping pattern decreases the time it takes to polish or finish a surface.
The flap disc construction helps to provide a more consistent finish because once the nylon materials wear down, they fall off, exposing the material underneath. This prolongs the time you will need before having to change the disc.
Hand Pads
Scuff hand pads are made from a non-woven, abrasive material. They are convenient because they can be cut to suit individual needs. They can also be used with or without solvents and are suitable for cleaning and polishing metal surfaces as well as removing rust. These hand pads are a great alternative to other sanding materials, such as steel wool or wire brushes when sanding by hand.
Hook and Loop Discs
Hook and loop systems are the same thing as Velcro. The discs can be attached to backing pads that can be used on an orbital sander.
These discs are convenient because they work well with finishing uneven surfaces. Because of the hooks and loops, the material is porous and is good for working with heat-sensitive materials.
Quick Change Discs
Quick Change discs screw on to standard die grinders, and due to their small size, they are good to use in tight spaces. They come in either a 2" or 3" size and can be used on a die grinder with a Roloc attachment.
Surface Conditioning Belt
These belts can be used for both linishing, finishing, and polishing. The belts come in a variety of coarseness, and it is suggested to start with the coarsest finish and work your way down to the finest grit to achieve the perfect finish. These are a popular knifemaking abrasive for finishing knives.
Interleaf Flap Products
Interleaf Flap Products come in various types, such as a die grinder interleaf flap wheel or an interleaf flap wheel drum.
With this type of product, sheets of sandpaper are connected to a wheel, and the spaces in between are filled with nylon material.
The grit from the sandpaper smooths down the surface while the nylon material polishes the surface. By doing two things at once, you can finish your project much faster and with less products
Scuff Pad Colors
When shopping for scuff pads and surface conditioning products, you'll notice that they come in a variety of colors. Each color is used to distinguish the different levels of coarseness of the product.
The coarseness of the pads is created by embedding different types of abrasive grains and grit sizes into the webbing. These colors will vary from manufacturer to manufacturer. For example, see the grit chart below for the coarseness levels of each hand scuff pad that Empire Abrasives carries.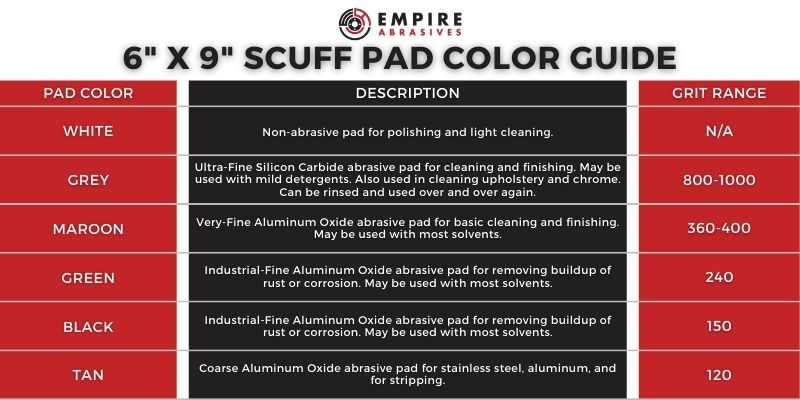 Sandpaper & Coated Abrasives
Sandpaper comes in a variety of grits and sizes and is used to remove materials from surfaces or to make a surface smoother. For example, sandpaper can be used to remove old paint from a surface before starting a new paint job, or it can be used to smooth out a surface during woodworking.
Sandpaper is made of fine particles (abrasive grains) that are either natural or synthetic. Each one has a different abrasiveness and its own purpose.
Common abrasive grains include:
Aluminum oxide – Synthetic grit that is used for sanding or polishing materials such as wood or metal.
Silicon carbide – This synthetic abrasive works well for sanding soft or hard wood, metal, plastic, and glass.
Zirconia alumina – A synthetic grit is appropriate for sanding rough surfaces, such as hard wood, and can also be used for grinding away burrs on metalwork. It works particularly well with metal because the grit is self-sharpening, increasing the amount of time you can use the sandpaper before changing it.
Emery – Emery is a natural material, most known for being used in emery boards for filing fingernails. Emery sandpaper is ideal for polishing and removing corrosion from steelwork. Due to the sharpness of the particles, it's best not to use this grit for sanding wood.
Garnet – This natural grit is best suited for sanding wood. Due to its softness, it is not recommended for sanding metal, as the particles become dull very quickly.
Flint – Natural material used for sanding off old surfaces and removing previous coatings of paint or varnish.
The size of the particles is referred to as the grit. Particles are sifted through a screen and sorted by size before being adhered to a backing. Each job has an indicated grit.
The Coated Abrasive Manufacturers Institute (CAMI) has established the scale for sandpaper grit, which is divided into macro or micro grit. Macro grit sandpaper is used on tougher materials, such as hard woods and metals, and micro grit sandpaper is used for softer woods and sometimes drywall.
Sandpaper grit ranges from 240-1000 for micro grit and 36-220 for macro grit. The higher the number, the finer the sandpaper grit. In addition to industrial use, sandpaper can also be used for tasks around the house, such as removing scuffs on suede shoes, removing grout stains in the shower, and sharpening scissors.
Your specific project will determine what grit of sandpaper you need.
Extra Coarse Sandpaper (24-36 grit) – This coarsest sandpaper is the most abrasive and is used for the toughest materials. It works well for sanding floors and removing old paint before starting a new paint job.
Coarse Sandpaper (40-50 grit) – Coarse sandpaper is great for rough-shaping wood and can be used for removing previous finishes and coatings.
Medium Sandpaper (60-100 grit) – Medium sandpaper is good for the final shaping process when woodworking. This grit can be used to remove planning marks from the wood and used to smooth out roughness.
Fine Sandpaper (120-200 grit) – The fine frit in this sandpaper is good for the end stages of woodworking. It can be used for the final sanding before the completion of a project.
Extra-Fine Sandpaper (240, 320, 400, 600 grit) – Due to the fineness of the particles in extra-fine sandpaper, it is best used for polishing in the end stages of a woodworking project.
Scotch-Brite vs. Scuff Pads
Scuff pads are often referred to as Scotch-Brite™ pads. These are the same types of products, but the term "Scotch-Brite" is a trademark name for the pads, which are made by 3M. The features and materials of surface conditioning products are comparable to similar Scotch-Brite™ products.
The important thing to remember when doing any metal or woodworking project is to find the best surface conditioning product for the type of material you are using. Incorrect products can cause damage to your surface or lengthen the project due to using inefficient sanding or polishing methods. Doing research beforehand will help you avoid mistakes, and you're your woodworking or metalworking project a success.
Still Have Questions?
We're here to answer all of your abrasive related questions. Empire Abrasives specialists are available during normal business hours via chat, email, and phone. We will also reply the following day to any email questions that come in during the off hours.