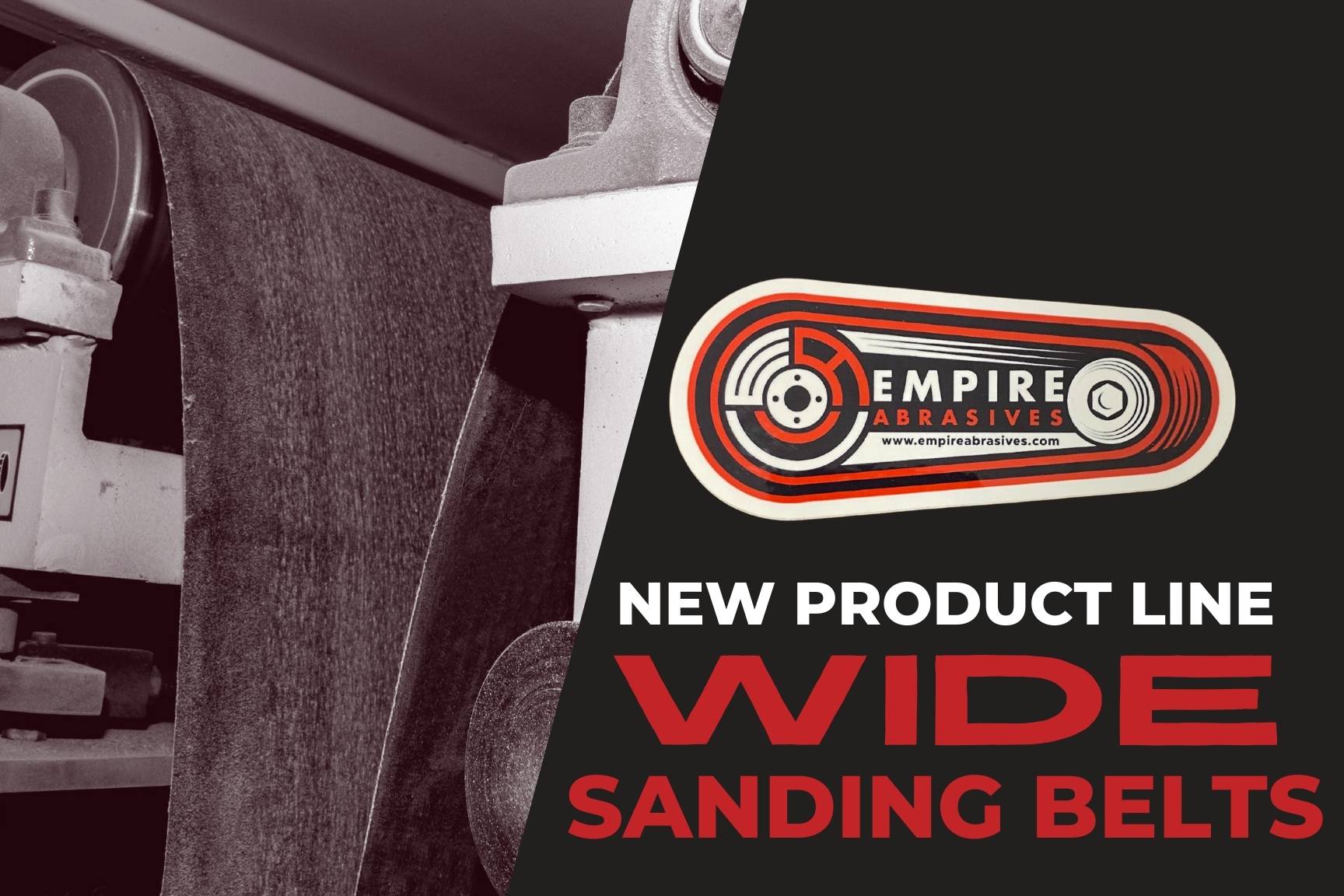 Our Empire Abrasives product line is expanding, and so is the size of our new extra wide sanding belts.
We have always offered customers the option to order abrasive belts in custom sizes, but now we've made it easier and more affordable for everyone to order those harder to find belt sizes quickly and easily. Whether you need the extra surface area on your larger belt sanders to grind and deburr metal, provide faster sanding for woodworking shops, or need to perform lots of stock removal, we've got you covered.
The new line of extra large sanding belts are available in widths ranging from 25 inches up to 52 inches, and lengths from 48" up to 103". To see the full selection, check out our Empire Abrasives sanding belts catalog.
Grits and Grain
All of the new options from our 25" x 48" belts to the 52" X 103" sanding belts are available with the following grit and abrasive materials options:
Grit - 24 / 36 / 40 / 60 / 80 / 120
Abrasive Material - Ceramic / Zirconia / Aluminum Oxide
Our large aluminum oxide sanding belts are also available with finer grits:
Additional Grits - 100 / 150 / 180 / 220 / 320 / 400
Available Wide Belt Sizes:
All belts are 100% coated with premium resin-bonded abrasive grains onto our durable, yet flexible, X-weight poly/cotton backing. Just like our original line, all of our extra wide sanding belts are Made in America.
Depending on the abrasive grain type you choose (Ceramic, Zirconia Alumina, Aluminum Oxide), you can use the belts for sanding or grinding any material that you put in it's path, including:
Super alloys (Ceramic)
Unalloyed steel (Ceramic, Zirconia)
Stainless steel (Ceramic, Zirconia)
Nickel (Ceramic)
Cobalt (Ceramic)
Aluminum (Ceramic)
Nonferrous metals (Ceramic, Zirconia)
Ferrous metals (Aluminum Oxide)
Wood (Zirconia, Aluminum Oxide)
Plastics (Aluminum Oxide)
Processing & Shipping Times
Unlike the rest of our abrasive products, our wide belt selection are all made-to-order. They are manufactured specifically for each customer's order. Once you finish checking out from your shopping cart, we'll have them made for you and usually ready to be shipped out in 3-5 business days, separately from the rest of your Empire Abrasives order. If you have additional products in your cart at checkout, those other items will be shipped from our warehouse while your wide belts are being made.
Custom Sanding Belt Sizes
In addition to the new wide sanding belt options, we also offer the ability to custom order belt sizes that fit your individual belt grinder setup. We are more than happy to discuss your specific abrasive belts.
As always, if you have any questions about these abrasives or any of our products, feel free to reach out to one of our abrasives experts at Empire Abrasives, 1-800-816-3824.
Wide Belt Production Photos
Below are a few production photos of our wide sanding belts being made in a US factory.