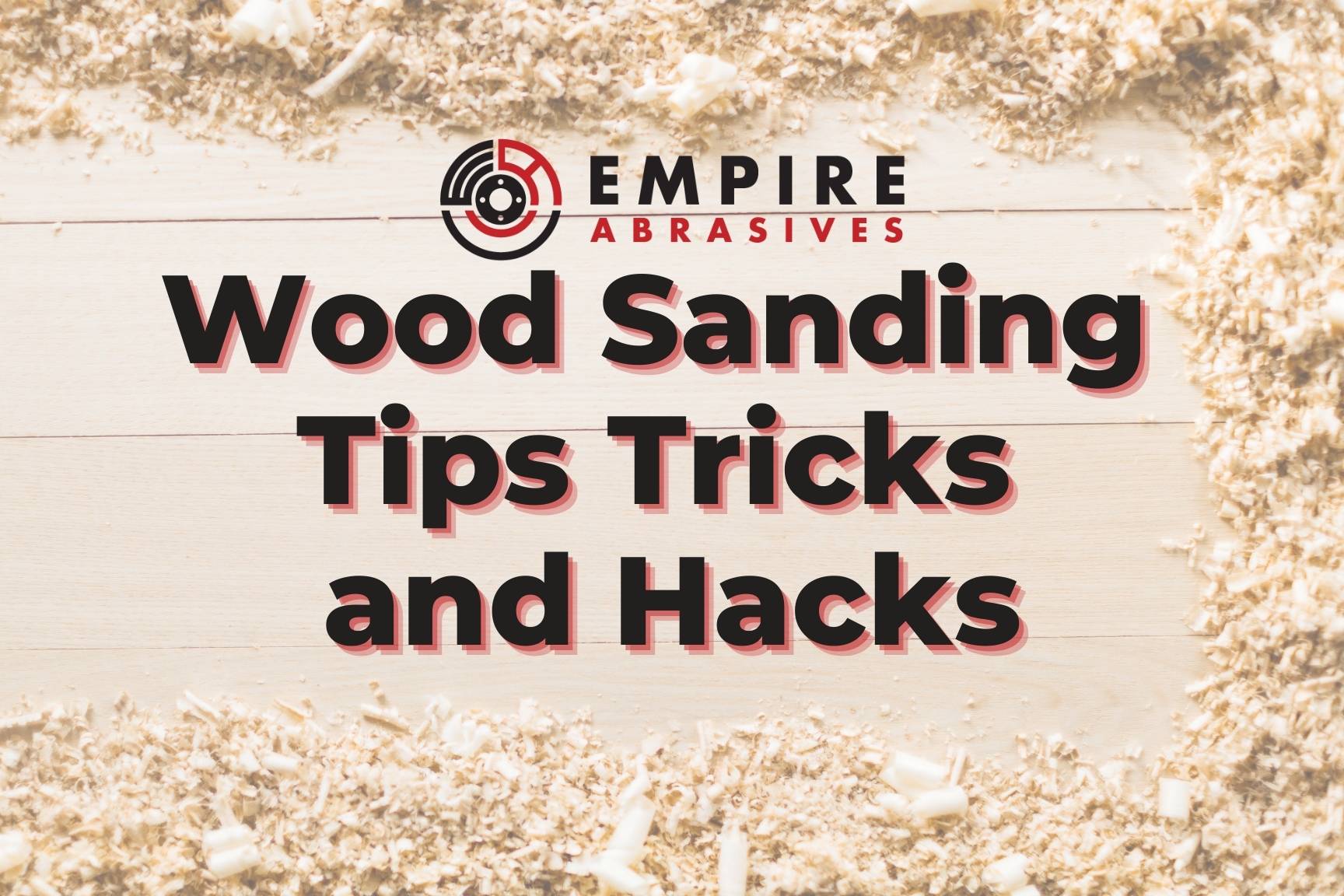 We wanted to share some amazing tips and tricks for sanding wood we've learned from our customers and from falling down some rabbit holes of YouTube videos about abrasives. You know you've been there.
These tips and tricks will help you extend the life of your current abrasives, find creative ways to reuse abrasives you thought were ready for the trash, and some overall great woodworking tool hacks.
Why/How You Should Wash Your Sanding Belts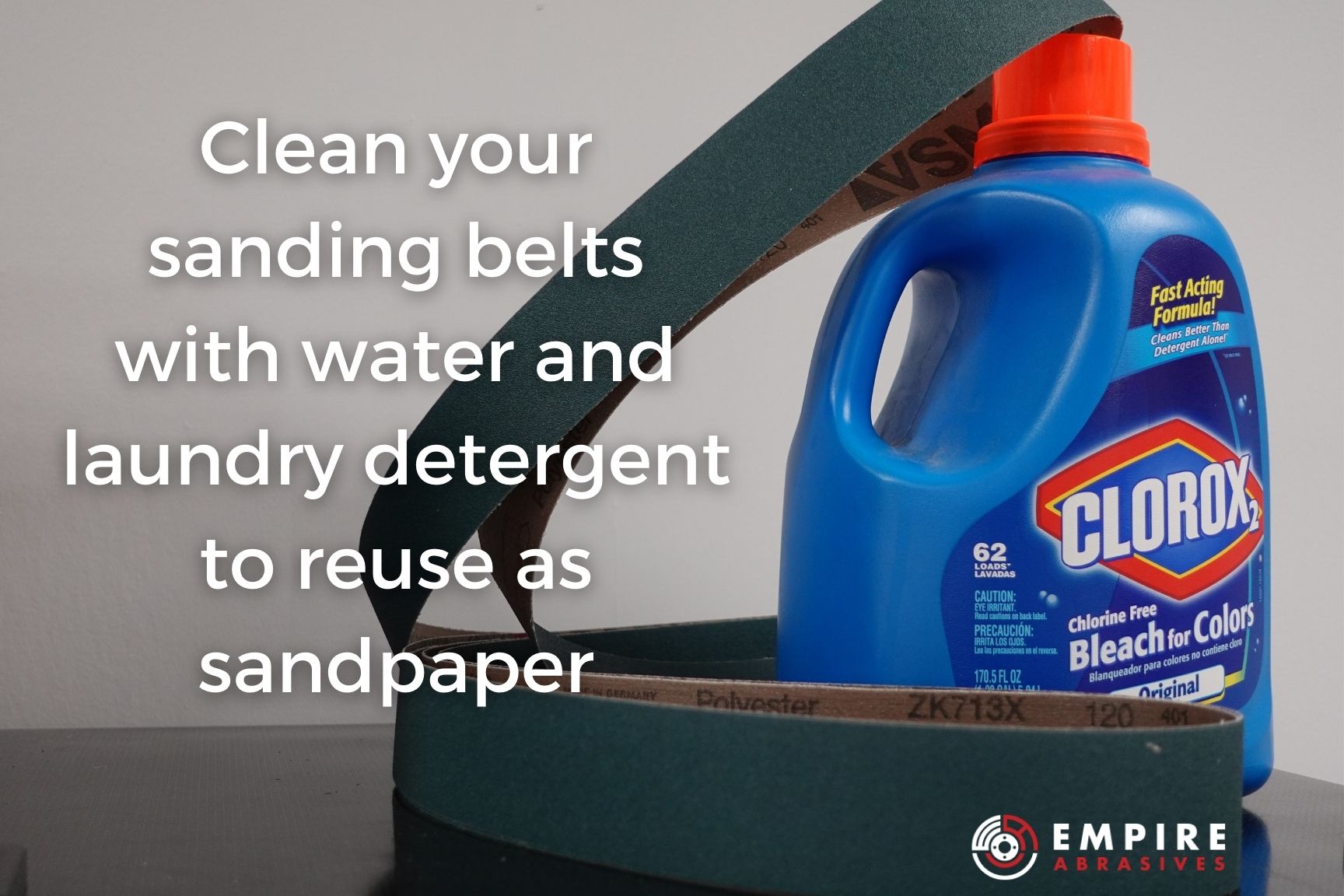 Just because you've used a belt doesn't mean the life-cycle of that belt is over. There is still plenty of life in most used sanding belts...you just need to do a little work that can save you some money on other abrasive products.
Washing out the contaminants and debris of a used belt sander belt makes them ready to reuse as scrap sand paper for other jobs.
To really get the belts clean, we recommend starting with a sanding belt cleaning stick to remove the most embedded debris.
After you think you've done enough with the cleaning stick, let your belts soak in a bucket or tub of hot water with a tiny bit of laundry detergent for about 10 minutes. Remove the belts and give them a good scrubbing with a stiff-bristle brush -- we would recommend a plastic brush for this step.
Allow them to fully dry, and then cut the belt down to smaller strips you can use for hand sanding another project.
**Please note that once you've washed your belts like this, they should not be used again on a belt sander. The water and detergent will degrade the cloth backing which will likely split when running on a belt sander.**
Wet Saw Cutting with a (Tool) Box of Crayons
Using a wet saw can be a tedious task as you try your hardest to make sure your cuts are straight while managing to keep your work area clean. When you make your cutting guide lines, you want something that won't wash away, but also don't want anything that will permanently mark or damage the wood surface.
The quickest solution is a simple one found in almost every home, especially if you have kids. Pull your favorite bright/bold color out of your crayon box to use for marking up your wood surface. The crayon won't wash away from the wet saw, but will easily wash off by hand when you're done cutting.
How to Make Your Own Wood File
A woodworking metal hand file is an amazingly useful tool to have, but if you only have a small job or need to hit some corners, you can create a makeshift wood file pretty easily. Whether you are using scraps, pieces of old belts (like we mentioned in the first tip), or fresh sanding sheets, this is a quick DIY tool you can make anytime.
First, you just need to cut a piece of sandpaper (or other similar sized abrasive) down to fit around a flat stick, like a paint stir stick or sturdy and straight piece of scrap wood. Once you've done that, spray an adhesive or some type of glue to the back of the sandpaper and wrap it tightly around the stick. Hold it firm until it sets. Now you've got a quick homemade file and saved yourself a trip to Home Depot.
Instead of wrapping one grit sand paper around the wood block, you can also go a step further like the video above. You can easily glue a different grit or abrasive material to each side to make a much more versatile tool.
Make sure you label the handle with the grit paper you used so you can use it again in the future.
You Should Use A Pencil When You Sand
Why? It helps prevent you from oversanding and lets you know when to move onto the next grit. Whether you are resurfacing a floor or sanding an smaller project, a few simple pencil marks can easily help you from oversanding and possibly ruining the wood surface.
To do the "pencil hack", rub the pencil firmly across the surface area you'll be sanding. As you sand across this area, the pencil marks will disappear when you've done enough work. Mark up the wood surface again with more pencil and repeat on a finer grit. Keep doing the pencil trick as you sand away the surface with each higher grit until you've got the flat, even, smooth surface you've been working towards.
This trick will also allow you to see just how fast the surface is being sanded away, allowing you to adjust your speed or grit accordingly to make sure you aren't sanding too deep into the wood.
Just remember the finer the grit you'll be sanding with then the lighter the pencil shading should be.
Label Your Sanding Discs Before Using
This isn't exactly an earth shattering trick, but it's a small tip that'll save you some headaches if you remember to do it.
If you're a fan of an abrasive like our hook and loop sanding discs, you (hopefully) know that they can be reused multiple times before the abrasive grit finally wear out. However, as you use them, the grit numbers on the labels can fade and become harder and harder to read faster than the actual abrasive wears down.
We recommend labelling the backs on each of the sanding discs with permanent marker. The Sharpie ink should last a while so you don't have to guess what grit or abrasive is on the front of the disc.
If you don't want to graffiti up your discs and still want to be organized, we also recommend sorting your discs in small plastic bins labeled with the grit numbers. Just remember to make sure to put it back immediately so they don't get mixed up.
Pool Noodles Can Change the Way You Sand
While it may seem a little odd at first for some of our master woodworkers, a dollar store pool noodle may carve out (cheesy pun totally intended) a permanent place in your toolbox.
There are multiple ways you can set these up for woodworking, but we've mostly seen these used as a makeshift sanding sponge that has give and can be used flat or rounded. If you're extra crafty you can make handles for them. But, this flexible foam is such a great and versatile base for abrasive materials.
When you adhere sandpaper to it, you can easily compress the foam to fit in or around so many different shapes and in otherwise awkward positions. It's also very easy to swap out different sandpaper when you need to use different sandpaper grits.
They are extremely easy to cut through. You can easily cut through them with a bread knife or any larger wide toothed blade to get the size and shape for each project. Sandpaper can also be attached on the inside or outside of the noodle, depending on your needs.
Increase Sandpaper Strength for Hand Sanding
This tip works great when you are looking to use up old sandpaper or those laundered sanding belt scraps mentioned above for freehand sanding. It's a great way to help make it comfortable to hold as well as increase the physical strength of the abrasive backing using something everyone should have on hand...duct tape.
It is a very simple trick of the trade. Just apply a strip of duct tape to the back of the abrasive sheet and you have a flexible sandpaper with increased durability. You may want to label the duct tape with a permanent marker if you're going to reuse this a few times.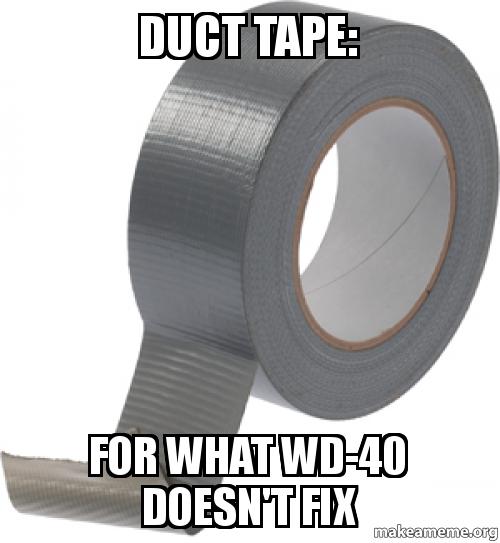 Repurpose an Electric Toothbrush into a Mini Orbital Sander
This is a great little trick if you need to get into a tight area but only need or want one side to have an abrasive rather than using something like a small 1" spiral band that would have less focused sanding.
First, cut off all of the bristles from the toothbrush head*. You'll get better results if you sand down the surface to get rid of any little stubborn pieces of bristle that you might have missed with a blade.
Next, cut out a small piece of PSA sanding disc, then attach it to the electric toothbrush head. While you can use any sandpaper with an adhesive spray, we would recommend using the sticky back discs for an appropriate strength adhesive. If you end up really liking this, you can get multiple toothbrush heads for different grit ranges and labeling the head.
*Note - this only works with spinning toothbrushes and doesn't apply to vibrating toothbrushes like Philips Sonicare or Quip. You can usually find a cheap spinning electric toothbrush at a Target, CVS, or some dollar stores.
Sand Tight Corners without Damaging Borders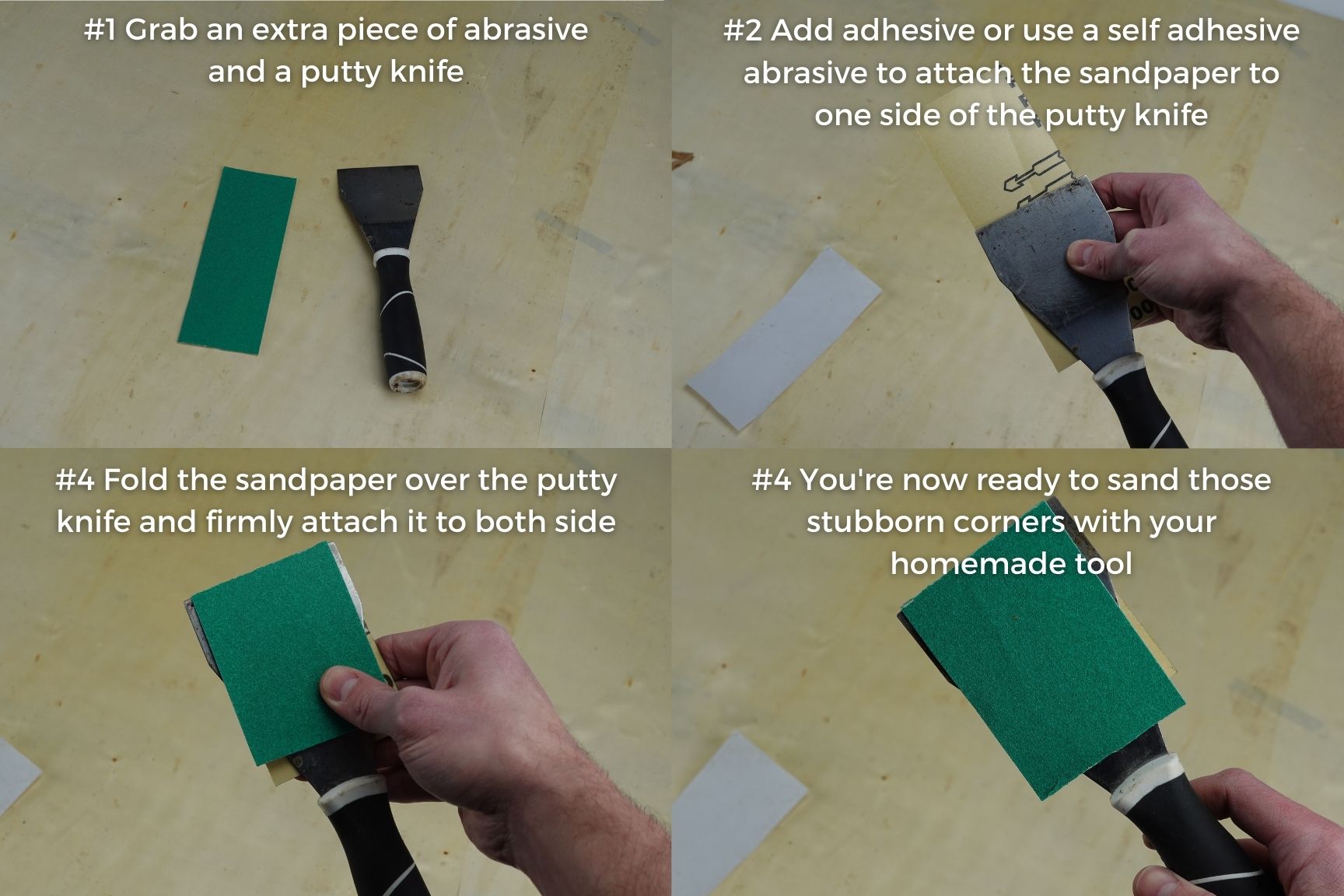 Trying to sand tight corners and edges with raised borders can be tough without the right tools. You can easily end up scratching the raised wood around the area you want to sand or not being able to get deep enough into the edges to evenly sand the wood. A great way to overcome this is using something like a putty knife or scraper with sandpaper attached.
This works fine by just folding a sandpaper sheet over the edge of the knife, but for bigger projects it'll be less of a hassle if you use an adhesive sandpaper. If you're not using a self-adhesive abrasive, you can also apply spray glue adhesive to one side of the putty knife and attach some scrap sandpaper, folded over both sides. This will allow you to sand the difficult areas without scratching/sanding the adjacent wood.
How to Make Your Own Wood Filler
While wood filler is pretty affordable, but nothing is more affordable than free. Next time you're cutting or grinding wood, it might be a good idea to hold onto the saw dust for a bit.
To make your own DIY wood filler mix sawdust with wood glue, or shellac like the video above, and apply to the hole. Allow the filler to dry completely and then proceed to sand.
One of the biggest benefits to this over store bought filler is the sawdust from the piece your working on will have an almost exact matching color whereas wood filler can have a noticeably different coloring.
Why Swiffer Should Have a Place in Your Toolbox
After you worked so hard sanding everything down getting the perfect finish, you want to make sure you remove all of the debris from sanding and steel wool use. A normal rag usually won't get all of the stubborn dust and steel fibers off of the surface.
One of the best, and cheapest, ways to remove the sandpaper dust and steel wool debris is a quick wipe with a dusting sheet. These static cleaning dust sheets, like the ones on a Swiffer Sweeper, will clean up the surface in seconds.