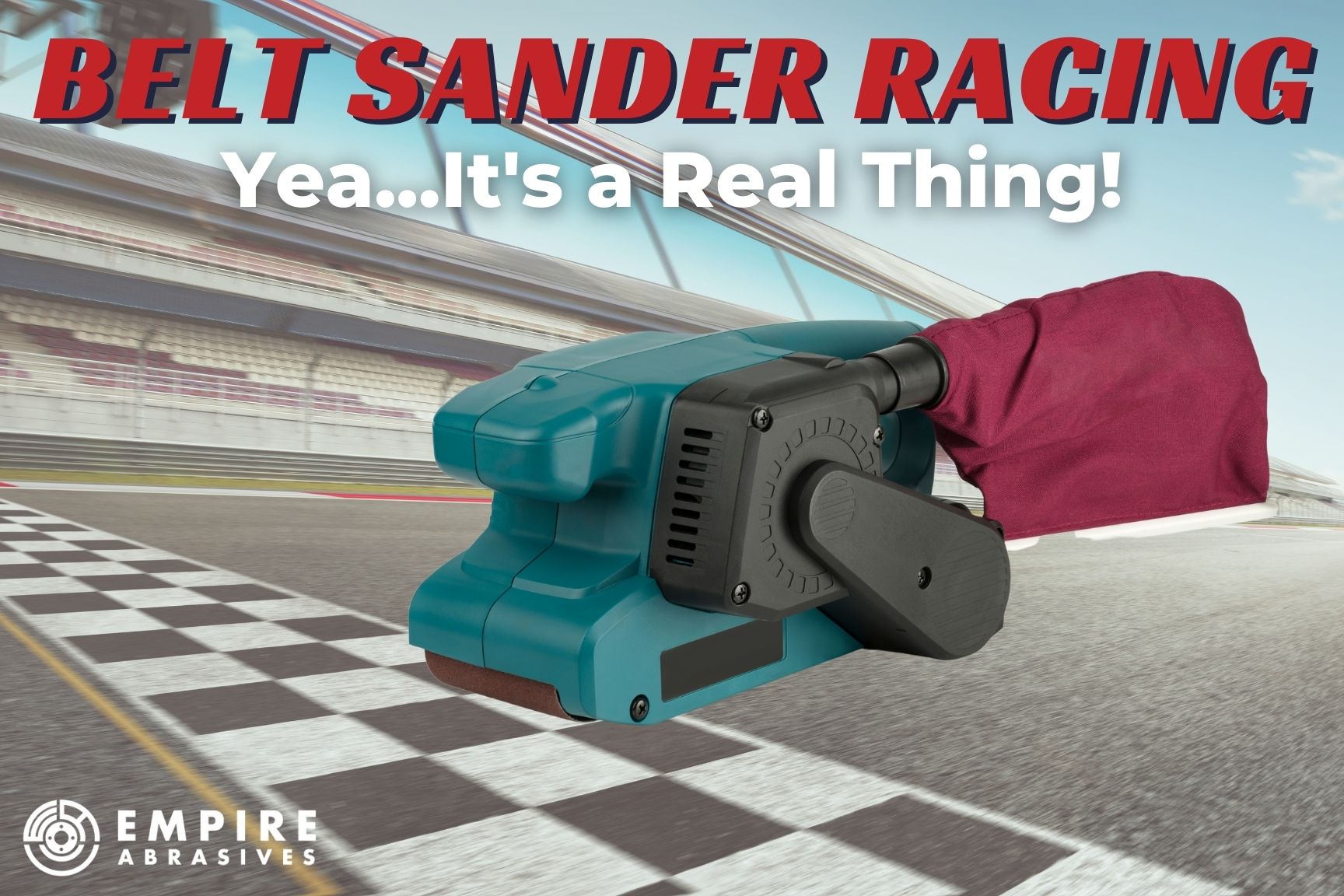 Rev your engines and get ready for a day at the track! No, we're not talking about drag racing or motocross; we're talking about belt sander racing.
At this point, you might have a ton of questions. What is belt sander racing? What kind of people are taking part in this fun (albeit crazy) sport? And more importantly, where can I go to see live races?
We'll give you the answers to all of these questions and more.
Get ready. Get set. Let's go!
Types of Belt Sander Races
Belt sander racing started decades ago. Since the first racing sanding belts were pitted against each other in competition, the sport has grown and evolved.
Currently, there are two kinds of belt sander races; drag racing and track racing. Let's take a deeper look at both types.
Drag Racing
In a drag racing competition, two or more racing belt sanders are placed on a long race track. This track consists of several open channels (one for each sander) and walls that help keep the belt sander from straying off course.
In some races, the sanders are connected to a shared power switch, while sanders have individual controls for other competitions.
Once the race officiant gives the appropriate command, the competitors switch on their belt sanders. The first belt sander to make it to the end of the track wins.
Track Racing
A track-racing belt sander competition involves human racers climbing aboard their power tool and riding it.
These types of races are held in heats with two races. Each racer places their chosen machine on a track situated on a level ground surface. The racer then sits down on top of the belt racer with a firm grip on the handles.
On the start command, the riders turn on their racing sanding belts and do their best not to fall off as they zip along the track. The first racer to cross the finish line wins and moves on to the next stage of the competition.
The Differences Between the Two Types of Races
The main difference between drag racing belt sanders and track racing belt sanders is obviously the level of human involvement.
In drag races, the belt sander is placed inside a channel on a racing track and moves down the channel on its own. In a track race, the belt sander carries a human rider down the track to the finish line.
The rules and regulations are different for the two types of competition too. Drag racing competitions tend to have some hard and fast rules for how the racing organization constructs the track and what the competitors can do with their belt sanders.
Drag Racing Belt Sanders
The belt sanders you will see in a drag racing competition vary significantly. Some competitors use a stock sander, while others modify their sanders with souped-up motors, high-quality sanding belts, and creative decorations.
Rules for Stock Belt Sander Races
For stock belt sander races, here are some rules you will see across different racing organizations:
The belt sander must be an "off-the-shelf" model from an established manufacturer.
The belt sander cannot have any modifications to its electrical or mechanical components.
Track guides and wheelie bars are encouraged (or sometimes required depending on the organization).
Non-functional decorative elements are allowed but must be at least 2" above track level.
Rules for Modified Belt Sander Races
For modified belt sander races, you will often see the following rules:
The belt sander may be modified as long as it fits the track, adheres to power limitations, and obeys competition rules.
You may modify the belt sander's drive system, motor, or other electrical components.
The belt sander must propel itself using only a conventional sanding belt. (We haven't seen any rules about abrasive type rules like a zirconia sanding belt or an aluminum oxide sanding belt)
Track guides and wheelie bars are encouraged (or sometimes required depending on the organization).
Non-functional decorative elements are allowed but must be at least 2" above track level.
Power
The power rules are almost always the same:
Standard 110v current
Belt sanders must plug into a standard three-prong extension cord (usually provided by the race organizer).
Track Regulations
These rules can vary between organizations, but most competitions will use a racing that follows these regulations:
The track will be a minimum of 45 feet in total length.
The length from start to finish will be 30 feet. The remaining track is for slowing and stopping the belt sander. Often, padding is placed at the end of the track to stop the sanders.
The track will consist of two side-by-side racing lanes.
The inside dimensions of the lanes will be 7¾ inches wide by 1⅞ inches high.
The racing lanes will be about 12 inches apart.
Track Racing Belt Sanders (Ride-On)
While still a fun competition, ride-on track racing tends to be less regulated and more about having fun. In fact, the main event where track-racing belt sander competitions are held is the Bertie's Inn Belt Sander Charity Races.
Bertie's Inn Belt Sander Charity Races
For over thirty years and through multiple owners, Bertie's Inn in Reading, PA, has hosted a fundraising event benefiting the National Multiple Sclerosis Society.
The event is strictly a (ride-on) track racing competition that any 18+-year-old competitor can participate in. Bertie's usually holds their event on a Saturday in the summer, and the fundraiser lasts about four hours.
Significant Events in Belt Sander Racing
If you want to see these racing sanding belts live (or if you're going to try racing your own custom-built racing belt sander), check out some of these upcoming events.
SoTex Belt Sander Racing Association
Based in Rockport, RX, the SoTex Belt Sander Racing Association hosts belt sander races every 1st and 3rd Saturday between November and April.
The organization hosts both stock and modified belt sander races, and the public is encouraged to compete in or simply watch the races.
For more information, visit the SoTex Belt Sander Racing Association on Facebook.
Belt Sander Races at The Gaff
The Gaff bar in Port Aransas, Texas, has been holding belt sander drag races behind the restaurant for years. Their belt sander races take place every second and fourth Saturday of the month.
Here is a breakdown of their upcoming 2023 events:
Jan

1/14/2023

1/28/2023

May

5/13/2023

5/27/2023

Feb

2/11/2023

2/25/2023

June

6/10/2023

6/24/2023

Mar

3/11/2023

3/25/2023

Jul

7/8/2023

7/22/2023

Apr

4/8/2023

4/22/2023

Aug

8/12/2023

8/26/2023
For more information, check out The Gaff's Facebook page here.
Northern Illinois Belt Sander Races
Hart & Sons LLC organizes the Northern Illinois Belt Sander Races. They are located in Rochelle, IL, and currently planning their 10th Annual Belt Sander Drag Races.
The organization scheduled the event for Saturday, February 11, 2023. It starts at 2:00 pm and will run for about four hours.
Visit the organization's Facebook page here for more info.
Belt Sander Racing Culture
The culture surrounding belt sander racing focuses on having fun with a community of friendly individuals.
You may have noticed that most racing events occur at or near bars and restaurants on weekends. It makes for a great atmosphere of laid-back competition full of awesome people, cold drinks, and delicious food.
If you are interested in making friends, finding a new hobby, or just enjoying a unique experience while spending time with your family, attending a belt sander race is a fantastic idea!