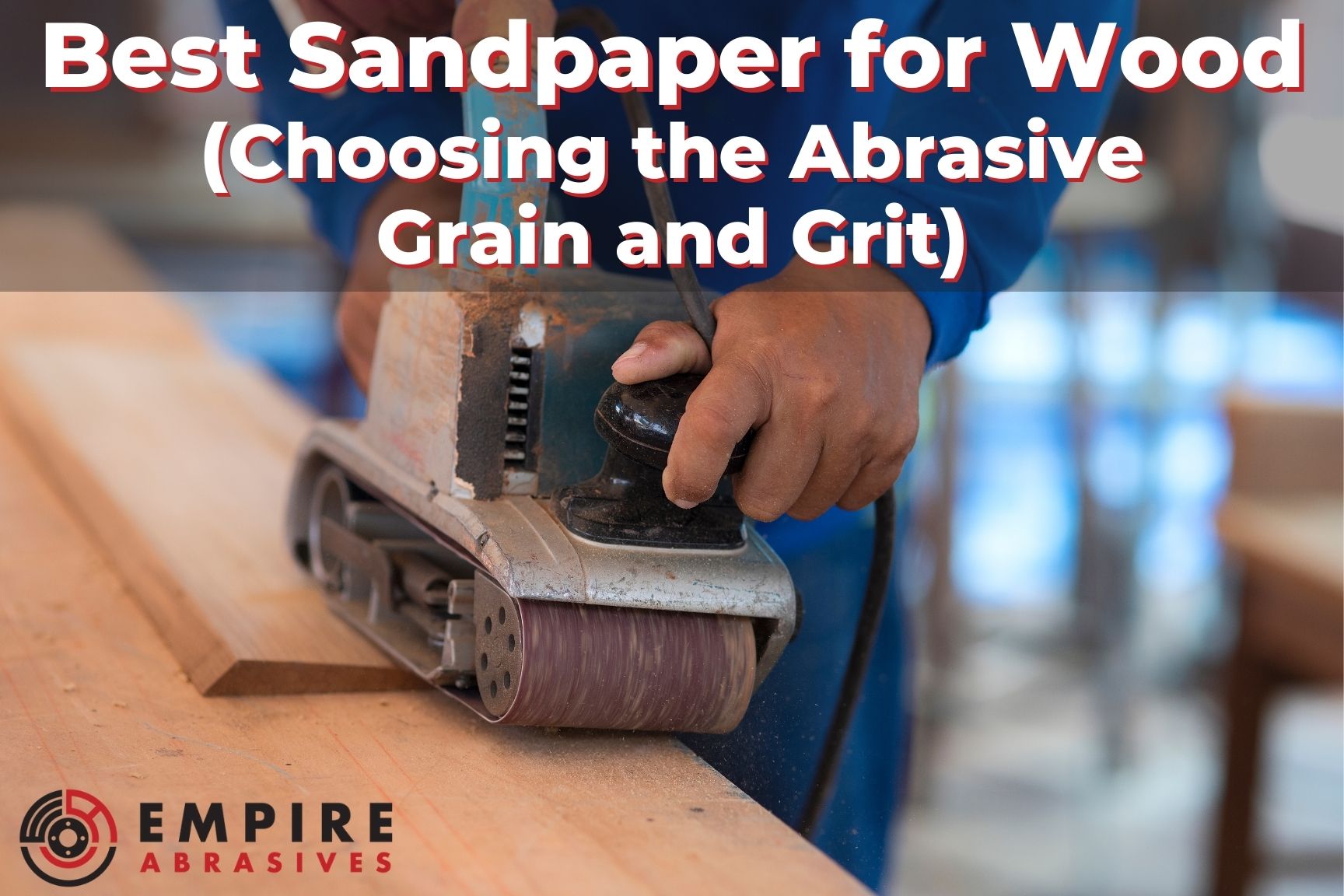 Choosing the best sandpaper for wood sanding applications isn't as easy as just picking up a random sheet of sandpaper. There are different types of abrasive grains that work best with different types of wood, then there are different levels of grit that affect how the abrasives will sand the surface.
Below is a quick guide to help you choose between the different types of abrasive grains and grit levels along with recommendations at the end of the article for the best abrasives for different wood types such as hardwood, furniture, cabinets, etc.
Abrasive Grains for Wood

There are several different abrasive grains for wood. Each one works well for various projects, on different woods, and so on. Every material has a unique ability in the surface types that it can sand. Knowing what types are best for which projects will help you choose the appropriate one for you.
Aluminum Oxide
Aluminum oxide is one of the most common types of sandpaper due to its versatility and affordability. This sandpaper is fantastic for sanding most woods, metals, drywall, and surfaces that already have paint on them. For wood, it's best used on any type of hardwood like oak, beech, or ash.
Because of their durability, you can use aluminum oxide sandpaper sheets on almost any surface to achieve the best results. Ideally, you'll use aluminum oxide for power sanding, but it's possible to use it for hand-sanding if you prefer. Plus, the long shelf life of aluminum oxide and its low cost makes it a highly sought-after type of sandpaper.
Aluminum oxide is an affordable choice that can handle the majority of wood sanding applications.
Gold Stearate Aluminum Oxide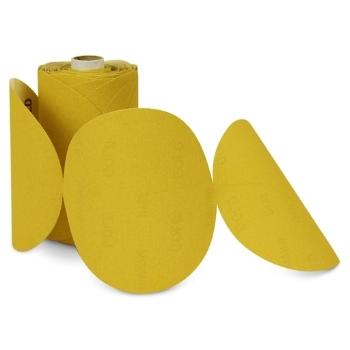 Gold aluminum oxide stearate abrasives are a very popular product for woodworking and sanding wood. The stearate coating over the aluminum oxide grains prevents loading, which speeds up the sanding process as you won't constantly be changing clogged sandpaper.
You can use this material on fillers, wood, paint, and lacquers. Usually, this material has a backing that does not slip while you hold the sheet or place it on a disc or belt to get your sanding job done. Hook and loop sandpaper with the gold stearate coating is the go-to choice for most people sanding with an orbital sander.
The cut that gold stearated aluminum oxide gives to the different surfaces is almost flawless and provides an excellent scratch pattern for higher-profile and professional-looking sanding jobs.
This sanding material is excellent for a variety of projects. It gives a beautiful finish on paint jobs, fiberglass, and especially on raw wood projects. Using this sandpaper on the furniture will make the natural wood look stunning without needing paint or even wood stain if you don't want it.
Zirconia
Zirconia, also called zirc, zircon, or zirconium, is suitable for various materials, including wood. When shopping for zirconia, you'll find it in discs, pads, and belts if you're going to use it for power-sanding.
It's similar to aluminum oxide in the sense that the particles will break down as you sand the wood material. While it's similar that the particles break down, it tends to last much longer than aluminum oxide. It's also more expensive than aluminum oxide.
The grit on zirconia is ideal for sanding away the rough edges on rough wood. It will help remove any sharp edges before you paint the product or leave it as is. Another typical use for zirconia is using it to sand ceramic finishes off of hardwood or other wood floors.
Zirconia is a good choice for removing multiple layers of wood fast, but not for finer detailed work.
Silicon Carbide
Silicon carbide is sharper to the touch and feels much harder in texture than aluminum oxide. For abrasive grains, this is the closest in hardness to diamonds.
Therefore, this material is best for light pressure sanding applications on surfaces including metal, plastic, and glass. It's an excellent option for sanding ceramic finishes off of wood floors or other wood furniture. While some abrasives are ideal for either hardwood or softwood, this one is great for either.
Many people use silicon carbide to rough sand a project between coats of paint or wood finish. Despite these differences, silicon carbide and aluminum oxide sanding sheets usually get used within the same sanding projects because of their comparable performance.
Ceramic
Ceramic is another material best for high-pressure sanding jobs to cut woods. You can find ceramic sanding material in belts and discs. Most people use this material when sanding larger jobs or when trying to sand down deeper into wood surfaces quickly.
Removing something from the surface of the wood is one of the main reasons people choose this material. The aggressive nature of the material is beneficial in removing paint, primers, wood stain, or any rough spots on the wood.
The abrasives are very durable and will last longer than aluminum oxide. Ceramic also runs much cooler, making it ideal for sanding applications where the operator would like to avoid overheating the surface material. It's perfect for rough sanding and can be more expensive than other types of sandpaper.
Non-Woven Abrasives

Nonwoven abrasives are versatile for almost any surface and are very cost-effective. They're great for cleaning a surface, preparing a surface for paint or wood stain, polishing, and smoothing the wood.
Something unique about non-woven abrasives is that you can use them on a wet surface to achieve an excellent sanding finish. It's ideal for use on hardwoods rather than softwoods. That being said, you can still use it on softwood if you're gentle.
These nonwoven abrasives have mixed silicon carbide and aluminum oxide elements to achieve a beautiful finish. They're available for belts, discs, pads, flap discs, and flap wheels, so you can sand how you choose.
Best Grit for Wood
Besides choosing the type of sandpaper for your project, you need to consider the grit number. Selecting the correct grit number can mean the difference between a smooth surface or something rough that could cause splinters.
Using the appropriate grit number ensures your project will be flawless and have that perfectly smooth surface you're after.
The grit number correlates with the size of the abrasive grains interwoven into the sandpaper. The Coated Abrasives Manufacturing Institute (CAMI) is responsible for appointing the grit number for sandpaper.
Macro Grit Sandpaper Guide
If you're considering using macro grit sandpaper, here's what surfaces you can use each grit type on:
Very Fine Grain (150, 180, or 220): Best for sanding bare wood
Fine Grain (100 or 120): Best for prepping wood to have it finished and can remove water stains from wood
Medium Grain (80): Great for sanding surfaces that require medium to coarse sandpaper and able to sand the wood before paint and varnish
Coarse Grain (40, 50, or 60): Best for quickly removing material, dirt, or debris from a surface for a super-quick DIY job. This grit is best for removing dirt or debris
Extra Coarse Grain (24, 30, or 36) - Provides more rapid removal of materials than coarse grain on hard and softwood surfaces
Micro Grit Sandpaper Guide
Below is a guide for the CAMI designations for micro grit sandpaper and a description of the type of projects on which you can use each type of grit number:
Ultra Fine (800 or 1000): Best for highly delicate sanding jobs and for polishing thick surfaces on bare wood
Super Fine (400, 500, or 600): Best for removing patches from wood surfaces and finishing, but it can't remove material
Extra Fine (320 or 360): Best for the starting process for polishing any type of wood, hard or soft
Very Fine (240): Best for sanding between coats and on drywall
Grit Sequence
No matter what surface you are sanding, it is important to use the right grit sequence. This means starting with a lower grit number (coarser abrasives) and switching out the sandpaper to higher grit numbers (finer abrasives) throughout the process.
Coarser abrasives will leave deeper scratches into the surface and remove more material. Once you have leveled the surface as much as you require, then switching to a finer abrasive will help smooth out those scratches. Then a finer grit will smooth it out even further. Technically you could do the entire sanding process with one fine grit, but it would take an incredibly long time and require much more sandpaper to get the job done.
Sandpaper Grit Chart for Wood
| | | | | |
| --- | --- | --- | --- | --- |
| Average Micron Size (in inches) | CAMI GRIT RANGE | FEPA P GRADE | AKA | COMMON USES |
| 0.02886 - 0.02044 | #24-#36 | P24 - P36 | Extra Course | Fast removal of tough paint and varnish from surfaces and sanding old floors |
| 0.001045 - 0.00749 | #60-#80 | P60 - P80 | Course | Removing old paint and rounding rough edges |
| 0.00608 - 0.00363 | #100–#150 | P100 - P150 | Medium | Sanding wood in preparation of finishing and removing light varnish |
| 0.00304 - 0.00254 | #180–#220 | P180 - P220 | Fine | Final sanding of bare wood and sanding between coats |
| 0.0014 + | #320 and up | P400 and up | Ultra-Fine | Polishing wood |
Wood Sanding Tools
You don't need to sand everything by hand unless you want to. If you're interested in using a tool, these are the most popular wood sanding tools out there.
Sandpaper Sheets
The old-faithful sandpaper sheets are always a viable option for most wood sanding applications and doing some of the most detailed wok. Using a sanding block or sanding sponge with sandpaper will help get much more even surfaces and save you some knuckle pain.
Sanding Belts
Sanding belts are great for sanding large areas such as drywall and other home renovation projects. For drywall, you'll want to use 220-grit sandpaper because anything below 100 could cause damage to your walls.
For wood furniture, you'll need 150-grit sandpaper. You'll use the sanding belt to sand until you see raw wood and then switch to finer sandpaper for finishing touches.
Sanding Discs
Using a self-adhesive sand disc will make it easier to change out the pads throughout different sanding jobs.
You can also use floor sanding discs to sand any type of wood for a hardwood floor or strip and refinish hardwood floors or even concrete. In addition, it can work on other materials, including stone, paint, glass, and granite.
Nonwoven Scuff Pads
Utilize nonwoven scuff pads for quick sanding jobs that you can do by hand and not have to do as much sanding through a specific surface area. They're great for polishing small wood projects.
Recommended Sandpaper Grains Wood Sanding
Sandpaper for Drywall
120-150 grit aluminum oxide sandpaper is ideal for sanding drywall. We recommend using a hand sander and/or pole sander to make sure you apply even pressure over the drywall and spackle.
Sandpaper for Hardwood Floors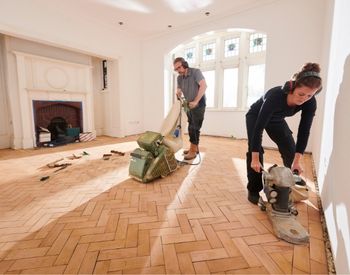 Silicon carbide is recommended for most hardwood floor sanding applications, especially for hardwood floors with paint, polyurethane, shellac, or varnishes. Aluminum oxide floor sandpaper and sanding belts can also be used, but won't be as effective as silicon carbide for larger jobs.
Zirconia floor sanding belts are best for heavy stock removal of hardwood floors. Ceramic is also a popular choice for heavy stock removal as well as for sanding pre-finished hardwood floors and exotic hardwood floors.
Sandpaper for Removing Varnish
To remove varnish from wooden floors, wood paneling, furniture, etc. we recommend sanding with silicon carbide based sandpapers. Aluminum oxide can also be used for varnish stripping, but the grains won't last as long as silicon carbide.
Additionally, non-woven abrasives like our Easy Strip and Clean discs and Easy Strip and Clean abrasive drums are made extremely effective at removing varnish without damaging the underlying material.
Sandpaper for Removing Paint from Wood
We recommend using aluminum oxide, silicon carbide, or easy strip and clean products to remove paint from wood.
Sandpaper for Cabinets
For solid wood cabinets, you should opt for aluminum oxide sandpaper.
To sand composite wood cabinets, silicon carbide and/or aluminum oxide sandpaper will be your best choices.
Sandpaper for Decks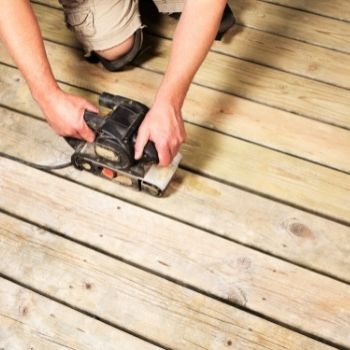 Aluminum oxide is going to be your best choice for most wood decks. Hand sanding decks could take your entire summer and definitely wear out your shoulder, so we recommend using a handheld belt sander, orbital sander, or an aluminum oxide sanding band on a linear grinder.
Sandpaper for Softwoods
Sanding soft woods like cedar, fir, redwood, spruce, and pine will get the best results from aluminum oxide based abrasive products.
Sandpaper for Hardwoods
Any of the above mentioned abrasive grains will work well for sanding hard woods like birch, cherry, mahogany, oak, maple, or ash. For larger jobs, we would recommend a non-loading sandpaper like silicon carbide or ceramic.
Hardwoods are notorious for loading sandpaper, so highly recommended a sanding belt/disc cleaning stick to remove the gummed up material.
Still have questions?
We want to make sure you are using the right products for your project, so if you have any questions, our abrasives experts are here to help. We can be reached during regular business hours via email, chatting on the site, or phone.