If you follow our Instagram or Facebook pages, you may have seen some posts in the past with our metal art shelves. This metal art showcase has become a part of our office everyone here loves and something we are proud of creating.
Every time we get tagged on social media by someone using one of our abrasives to make something, we're humbled and so proud to have our little piece of the creation. If you are a maker or notice any great work you think we would appreciate, please tag us on Instagram with #empireabrasives. We're always looking for new metal art to buy for the showcase.
When we order work from someone, we do it to celebrate their creativity and support these makers while giving back to those that support us. It just so happens that our office looks much cooler as we add more pieces.
How It Started
Take a look at our Instagram posts over the last few years and you'll see that we're obviously fans of metal art around here. Some of these projects you all are making are just amazing. The creativity is next-level.
Our family members also picked up on our metal art obsession, which is where our collection started. The incredibly thoughtful wife of one of the owners thought of the perfect Valentine's Day gift in 2019. She got in touch with one of our favorite artists, Eric aka @dospistolasmetalworks, and ordered a custom work from him. Check it out below…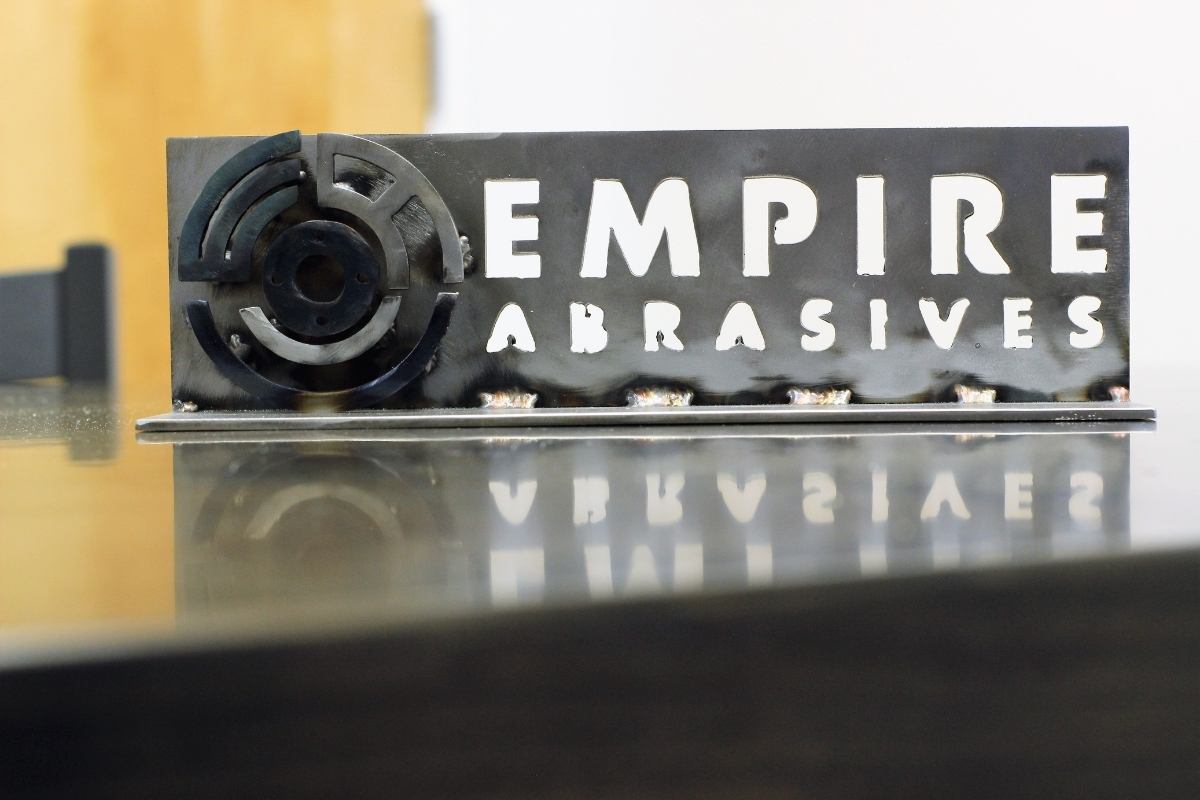 Here's the caption that went under the post for that first piece in the Empire Abrasives metal art collection:
PLEASE READ: For those of you that don't know me, my name is Joe and I'm usually behind the social media here at Empire Abrasives. For Valentine's Day my wife told me she's been sneaking around with one of you behind my back........ I honestly couldn't be more excited!!! She knows how important this community is to me so she reached out to one of our favorite artists and asked him to make something Empire inspired. Thank you so much Eric @dospistolasmetalworks
Everyone who came into the office noticed Eric's work and had the best compliments for it. It didn't seem fair to keep it hidden on one desk though, so we ordered a shelf to display it, with the hopes of adding more to it over time.
Metal Art Currently in the Showcase
Eric Harristhal aka @dospistolasmetalworks
As we mentioned, Eric's piece was the inspiration for us to start a collection of badass metal art pieces to show off in our office.
Eric has an Instagram account that we always love seeing new posts from. If you're a fan of Tim Burton, you'll love his creations.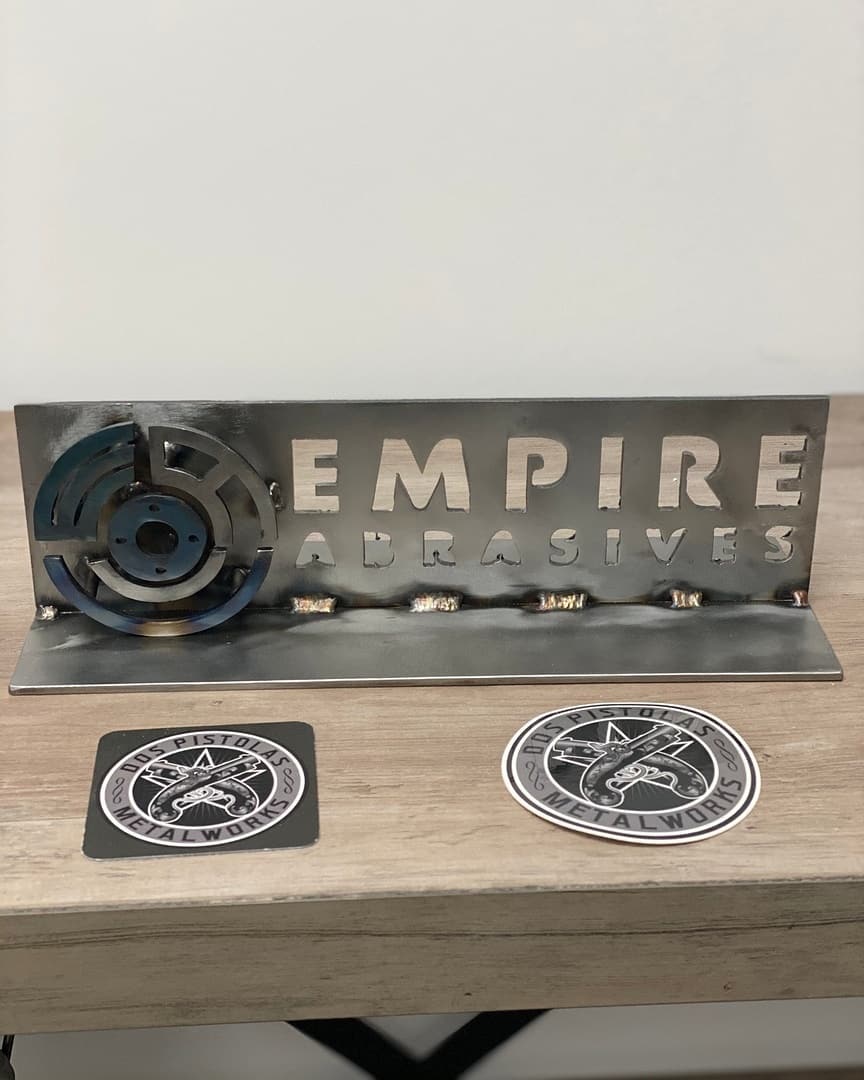 For more about Eric and his work -
Dospistolasmetalworks on Instagram
---
Brian Brooks aka @brooksy_weld_done
The first purchase made for the shelf was from the talented Brian Brooks. This battlebot was the perfect piece to start building onto the collection.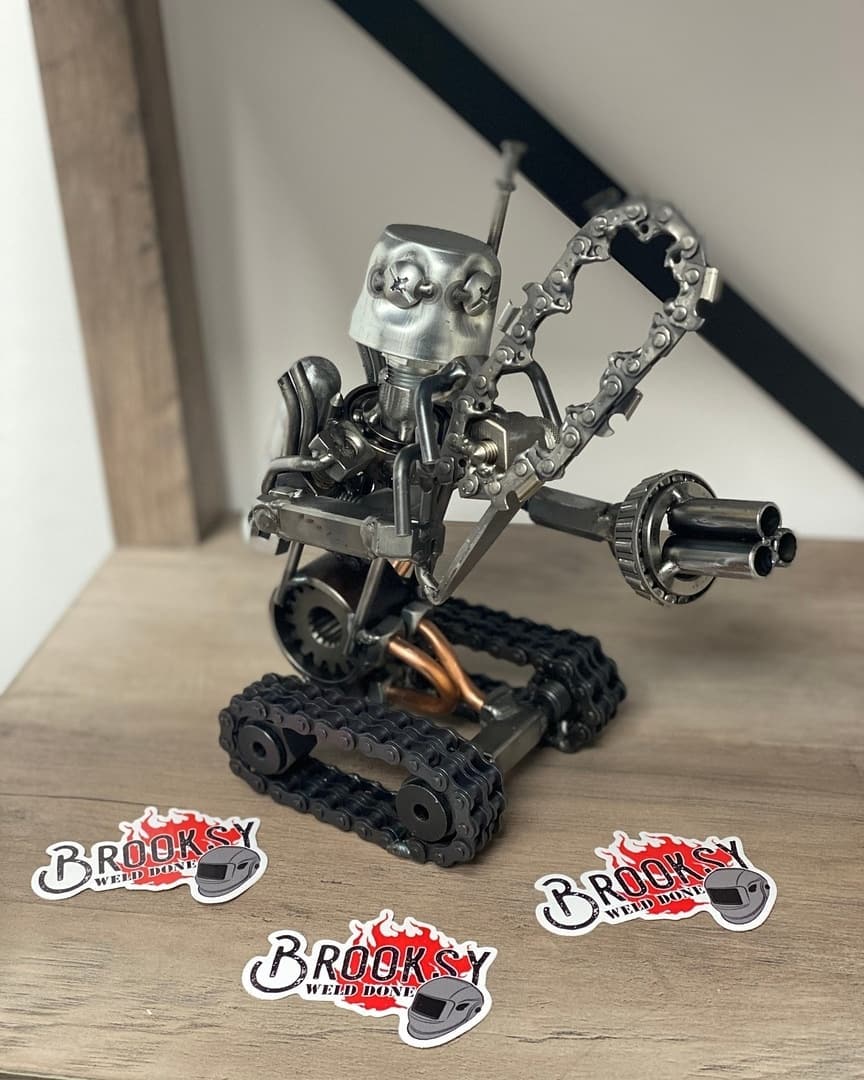 For more about Brian and his work -
brooksy_weld_done on Instagram
---
PJ KENNEDY aka @pfe_works
PJ is the first metal artist to show up on our shelves twice! This man can take a pile of scrap metal and turn it into some incredible art. We are constantly blown away by his creativity and craftsmanship.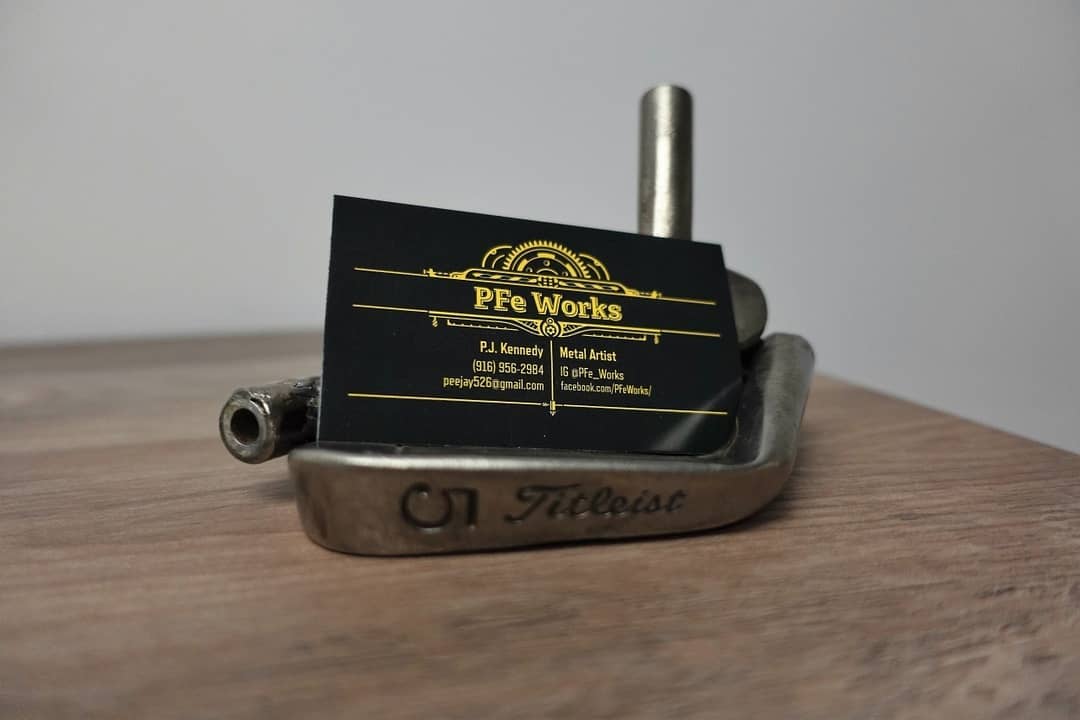 For more about PJ and his work -
PJ's WhyWeWeld feature on YesWelder
---
Kyle Auga aka @kyles_kinetics
It's a mystery to us how Kyle is able to create some of these incredible balancing sculptures. His work has been blowing up, getting featured in commercials and even making a cameo appearance in Ryan Reynold's Free Guy movie.
You'll have to check this out on Instagram to see the balancing act.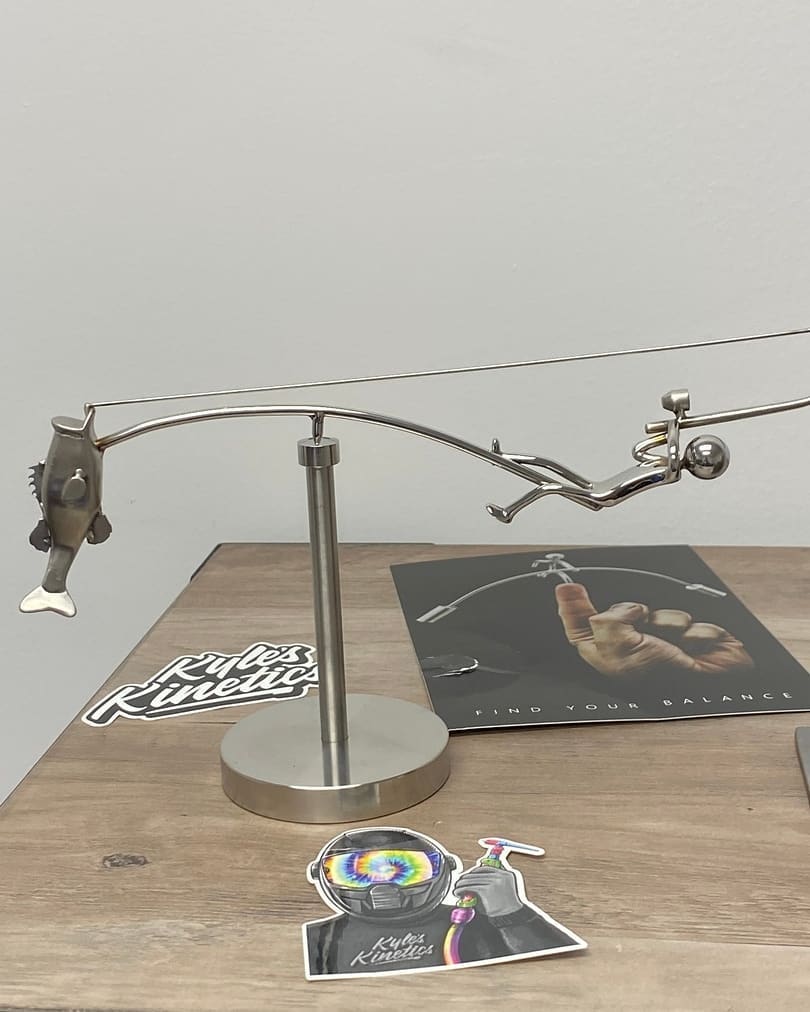 For more about Kyle and his work -
---
Garrett Coursey aka @theweldinokie
We thought the showcase could use a little color and a shoutout to the welding community, so we commissioned Garrett to make us some weld art. For design inspiration, we asked him to pick any one of our sticker designs to recreate. Garrett decided to choose the most intricate and difficult design, and he nailed it!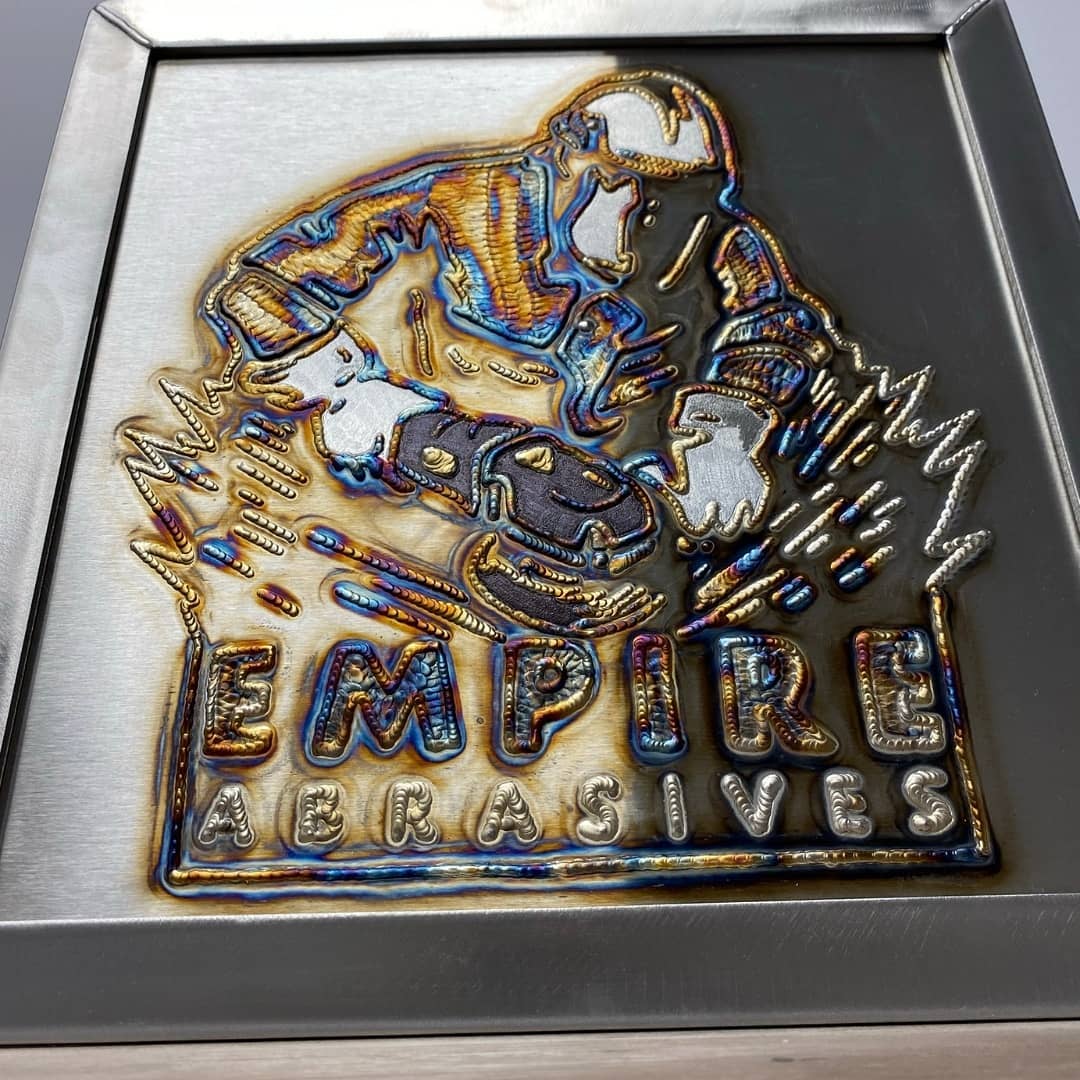 For more about Garrett and his work
---
Aleksandr Valerievich Aka @welderman_alex
Sometimes we're not sure what's cooler, Alex's metal art or the badass photos and videos on his Instagram of him making the art.
The thoughtful wife that started our collection with the dospistolasmetalworks piece reached out to Alex for an amazing Christmas gift. Alex is from Russia, so this officially makes our collection an international showcase!
For more about Alex and his work -
Want to be added to the showcase?
We are always on the lookout for new pieces to add to our collection. If you are a maker or see something you think we'd like, tag us (@empire_abrasives) in the photo on Instagram or write #empireabrasives in the comments.
You don't even need to be a customer! We're open to anything that looks cool, is made by hand, and is at least somewhat office appropriate. So far it's all metal art, but we'd like to add handmade knives, woodwork, or any other piece that could fit.