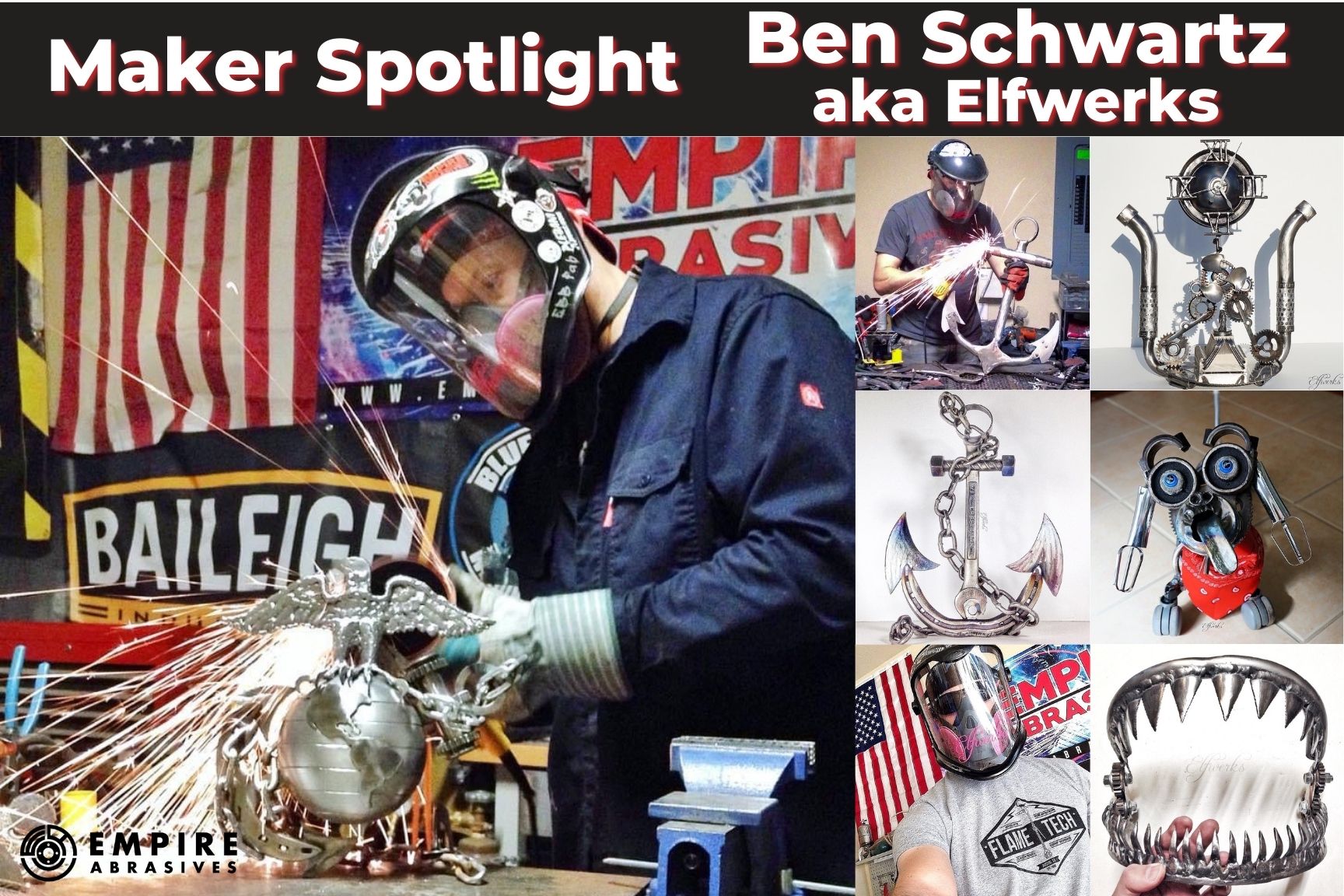 This week we are excited to share a bit about one of our favorite makers, Ben Schwartz. Or as a lot of you already know him as -- the one and only Elfwerks!
We've gotten to know Ben over the years and are so glad that he is a part of the social media scene of welders, makers, and metalartists. Not only does he make some very cool work, but he brings a ton of positivity into his content and everyone's comment sections.
You should be following him already, but here's his links if not...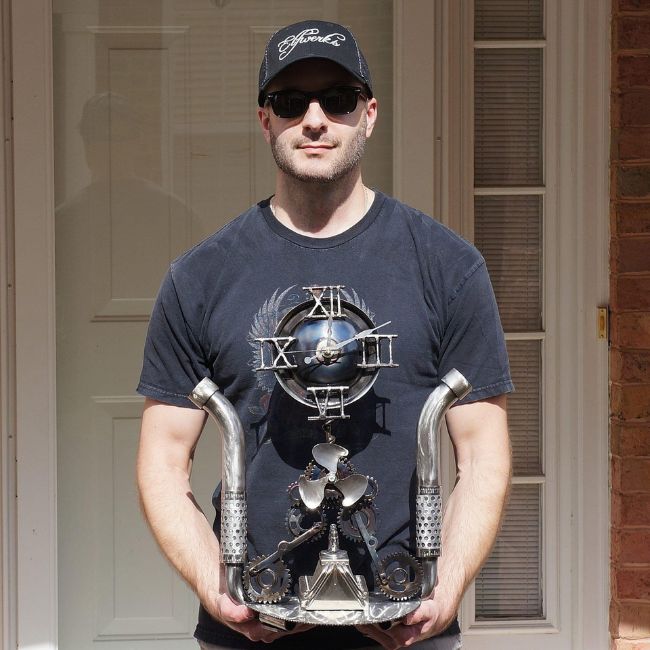 Here's a little self introduction from Ben -
Greetings all! Thank you for taking the time to learn a little about me. I am grateful for your support. My name is Ben Schwartz. I do metal art as a hobby under the moniker Elfwerks. Born in Pennsylvania, raised in Florida, and recently retired from the United States Navy, my family and I chose to settle in Washington state.
Onto the interview...
Q - Where did the "Elfwerks" name come from?
A - Though I didn't feel like an artist, I felt I should develop an art name or moniker in a form of branding what I was putting out. I wanted it to be something immediately positive, communicate action, and without limitation on what a person might expect from the brand. Corny, but true, my mind returned to the thought of an elf working on toys in a workshop as I remembered from Christmas movies when I was a kid. And so the name is a play on that combined with the concept "works of art." When searching for the name Elfworks on social media, it was already taken. So I changed the name to Elfwerks, which was available. The second 'e' has come to represent our daughter's first name, while also conveying German roots on my mom's side of the family.
Q - What do you do outside of making badass metal art?
A - I am so thankful people enjoy what I make, and even more so that anyone would think of it as badass. Outside of making metal art… I am a husband, dad, veteran, and really just another guy striving to be the best man I can be. My 'bread and butter' is leadership in health care.
Q - What has been your maker journey?
A -The men on my mom's side of the family are/were all mechanics – my grandpa had his own automotive repair shop in rural Pennsylvania, which has been passed on to one of my uncles. The same grandpa dabbled in yard art for some time in his later years. I have always been interested in anything with a motor, building and disassembling things, structural material, and the impact of all of this on people… be it for form and/or function. I really had no idea my mid-thirties and beyond would include creating art.
Q - What got you interested in this?
A -My daughter got me interested in creating metal art. In 2012 I planned on attending automotive technician school after hours while stationed in Virginia. Just after visiting a local campus and prior to registering, my wife and I found out we were expecting a baby later that year. So I decided it would be best to stay home with my wife after work to be there for her. I had an idea that I wanted to greet our daughter with her own chariot like a princess in a Disney movie, which led me to my very first project dealing with metal – the iRod. I bought a rusty wagon listed on Craigslist for $5, and went to town on it with what few tools I had.

After that, I restored and modified a ride-on firetruck, and wanted to expand my capabilities in resto-modding kids rides like wagons, ride-on cars and trucks. So I asked Santa for a welder for Christmas, and whaddaya know? My first welder and PPE were under the tree Christmas morning. It took me three months to muster up the courage to weld at the age of 35, and I finally struck my first arc in March of 2013. My first welds were connecting two axles from a disassembled PowerWheels. I felt bad about throwing the metal away because it was still good metal. So I turned it into a yard art flower with an old frying pan, wagon wheel, and coat hanger. It took me a while to become comfortable calling what I do art, as I don't consider myself an artistic person. It also took a bit to become comfortable with putting my work on social media. While I still have much to improve upon, I believe my work has been more progressive than otherwise by putting it out there for people to see.
Q - How would you describe your particular style?
A - I've been told my style is whimsical more than once, which I appreciate very much. I think maybe I would call my style lively. I enjoy putting curves into metal to give my art a type of flow, while almost always putting a lot of time into making the surface fresh with an array of different type of abrasives and techniques. Some of my style has a steampunk or machinery feel.

Q - What is your favorite Empire Abrasives product?
This is definitely a trick question :) I rely heavily on Empire Abrasives in all of my work. My top few favorite products at the moment are probably your 120 and 36 grit flap wheels, polycarbonate discs, 3" Roll On Disc Pad Holder - 1/4" Shank with quick change pads, and sanding belts. I have much to learn with abrasives, and in looking at all Empire Abrasives has to offer, I've truly only scratched the surface.
Q - What tool(s) get the most use in your garage?
A - My 4.5" angle grinders and drill definitely have the most mileage. I use a bench vise, various pliers (including Armor Tool adjustable as my top choice), and Bernzomatic torch routinely as well.

Q - Do you have a dream tool for your workshop?
A - I think a quiet air compressor (for plasma cutting), drill press, and buffing wheel are on my dream sheet. I will probably have two of the three within the next year.
Q - Do you have any specific music you need to listen to while working?
A - My Pandora station shuffle routinely includes Blue Foundation, Rock Hits, Primus, Rage Against The Machine, Sub Focus, The Lonely Island, Beastie Boys, and others.
Q - How long would you say it took you to hone your craft?
A - Oooof! I'm not sure I can look in the rear-view mirror on honing my craft. But the first time I was really happy with what I had done from an original art design perspective was the shark build from 2014. I think the U.S. Marine Corps Eagle Globe and Anchor of 2017 was not only a very emotional piece, but I feel the build is near the top of my capability as a metal artist. That in mind, it took about four years of playing with metal to get there. I think anyone can do it, and would likely surprise themselves with their capabilities if they gave themselves the freedom to explore something like metal art. It really just takes putting your mind and energy into it like anything else. Genuinely trying is probably 90% of it all.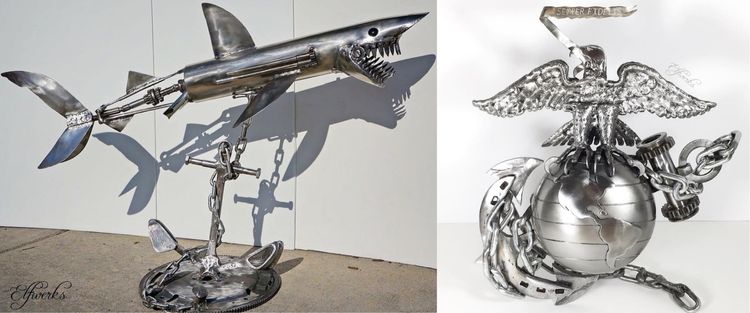 Q - What is your favorite project you've created/worked on and why?
A - Considering my love of our Nation and Military, the U.S. Marine Corps Eagle Globe and Anchor of 2017 is my favorite piece I've done. I will eventually make one for my wife in honor of her Marine dad who was a Vietnam Veteran. The USMC emblem, is my favorite symbol of all time. The eagle represents the United States, the globe represents the global presence of the Marines, and the anchor emphasizes the ability to reach any coastline in the world thereby connecting the Marine Corps and the Navy.
Q - What are you working on now?
A - At the time of this writing, I am finishing up a winged cross wall piece. My next metal art project will be a blue heron.
Q - How do you come up with your ideas for each project?
A - That is a great question, and probably the one I am asked most often. Thankfully, almost all I do are commission requests. I offer the client the choice of any aspect of their request (e.g. realistic, cartoonish, abstract, rustic, tabletop, wall piece, etc.). Most will request a certain thing (for example, an elephant), and say to just go with whatever I'd like to do – artistic freedom is what some call it. From there, I generally draw out a design or find/print an image from online, and look for pieces of metal I have in the shed that could be used directly, indirectly, or fabricated into something looking like the original design. I will sometimes redraw the piece while not in the shed working on it. I like to think of each project like making a puzzle from pieces I have to make fit. It is rare that I find an interesting piece of metal (or wood) first, and have that lead the design, but I have done that a time or two.

Q - Do you have any advice or resources (Youtube channels, websites, etc) you'd recommend
A - My first bit of advice is to lead all efforts with a safety mindset, which includes considerations about the work environment and PPE. Personal Protective Equipment isn't the sexiest of topics, but it really should be the first thing on a person's mind in support of a potentially dangerous or hazardous craft. When elfing away in my werkshop, I always wear eye protection by way of safety glasses, a grinding shield, or welding lid, a respirator, flame resistant outerwear, and gloves to name a few PPE possibilities. And I intentionally photograph myself projecting safety whenever capturing an action shot. I want people to safely enjoy metal work (or other potentially dangerous work) for years and years ahead, and with minimal health risks. I think people will have more fun crafting if they take care of the safety piece first.

Aside from a "safety first" mindset, I recommend doing a YouTube search for topics such as 'welding for beginners' and 'metal art for beginners' to get some good ideas of where to start. Though I haven't yet, taking a welding class would definitely help. Searching on Instagram for the hashtag #metalart will also be helpful. Something that was more helpful to me than I thought it would be that I recommend for others interested in making metal art (or other types of art) is creating a public social media account and utilizing the tool as a portfolio of sorts. While some may be timid about putting their work out there, I feel it helps a person grow in many ways… and it's also a way to project positivity.
Q - Anything exciting coming up in the world of Elfwerks?
A - My next career chapter will hopefully allow me more time to get cracking on art projects. I am excited to explore more abrasives and techniques in my work, and especially looking forward to incorporating more plasma cutting.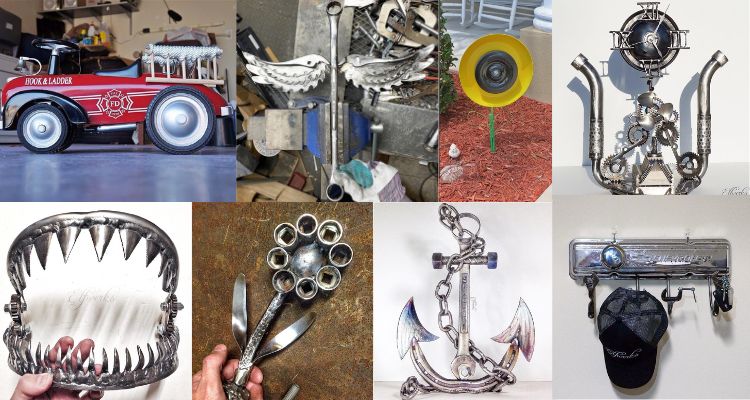 Ben, thank you so much for taking the time to do this interview with us and for being such a great voice in the welding and metal art space! For anyone that would like to follow along with Ben's (Elfwerk's) journey, here are his links again: