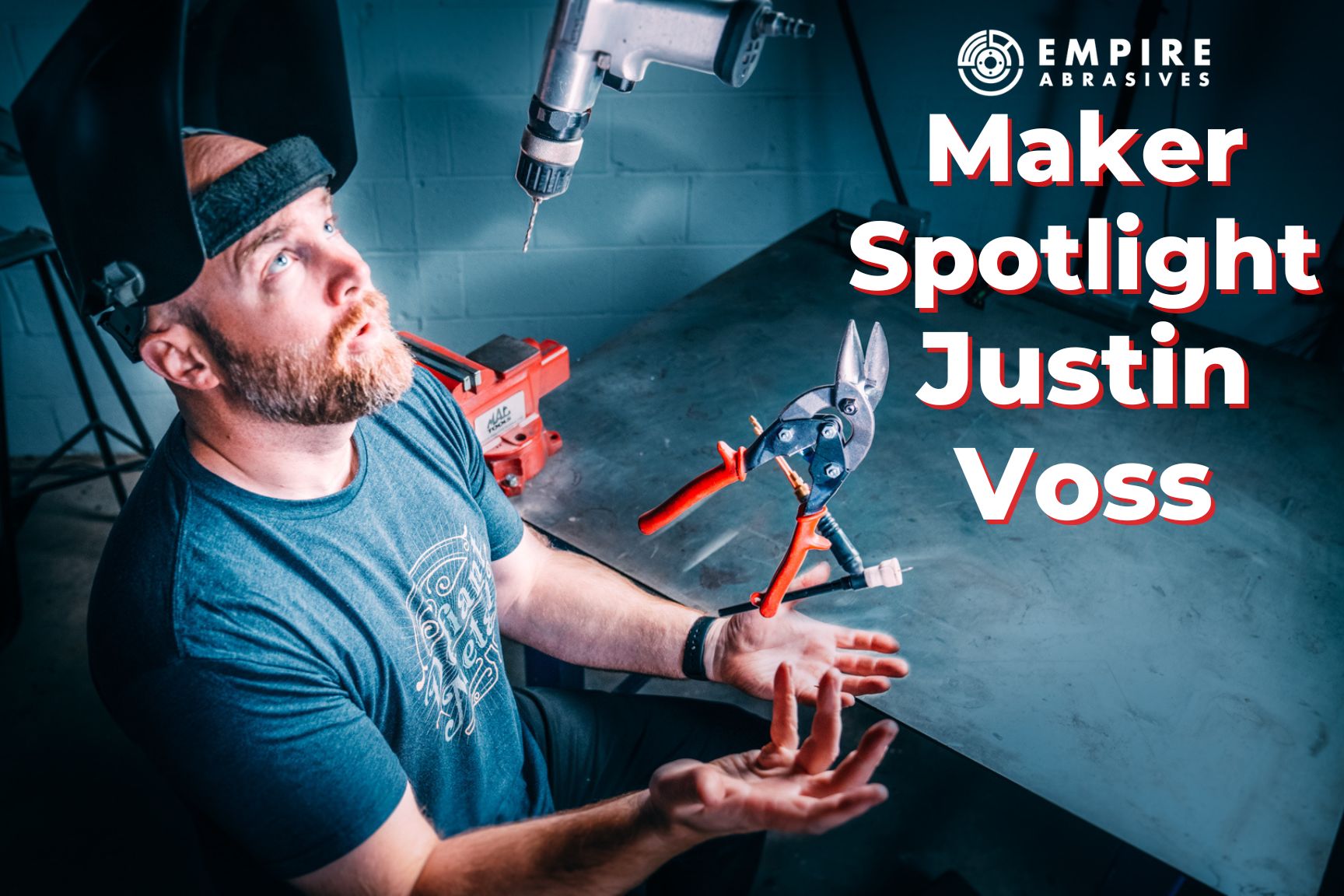 This week we are happy to feature one of Empire Abrasives good friends, Justin Voss. Justin is a super talented fabricator and welder with a great YouTube channel where he teaches some of his metalworking skills to the masses. He has an interesting history working in NASCAR as a fabricator and over the wall pit crew member. In addition to his YouTube channel, Justin also created Defiant Metal where he sells some great products for welders and fabricators. Check it out in the link below!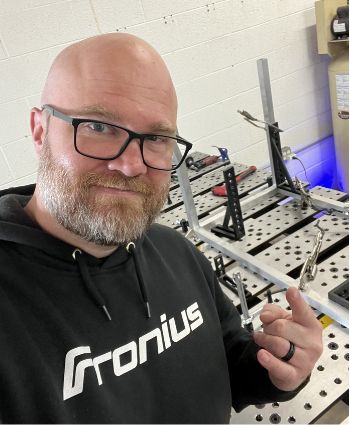 Links to see what Justin is up to -
Tell us about your YouTube channel?
My channel is focused on metalworking and fabrication, for both the practical and the creative side. I primarily do TIG welding projects as well as some MIG welding.
What is your goal with the channel and/or plans for the future of it?
I try to share the knowledge I've gained over the years as well as learn from the community. It's pretty unlimited what you can do with metal, so I like to think of creative things to make and share how I go about solving the problems that come along while trying to make that thing. I hope my channel makes metalworking and welding feel more accessible to people who have never tried it before and is also interesting and entertaining to people who have been doing it for years.
How do you get ideas for what to film?
Ideas come to me at random times. Sometimes it's solving a problem that I have around the shop and other times it's just something cool I would like to make and I think others would find it interesting as well. It is a balance of what is a good idea and what is a practical idea that I could actually get done in a reasonable amount of time.
Tell us about Defiant Metal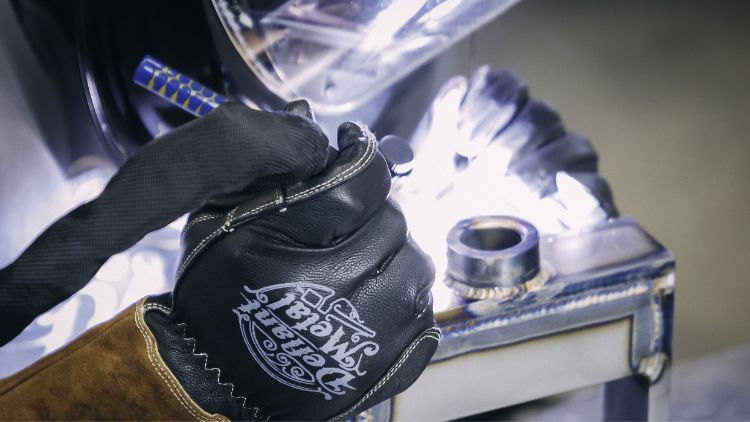 Defiant Metal is where I make welding and fabrication products that I would want to use. I try to design stuff that performs better and looks better than what has been available in the past. The main item's right now are our best selling Black TIG welding gloves. We also have the same style in white and pink. We also make a MIG welding glove as well as fabrication sleeves. The fabrication sleeves I am excited about because I am normally a t-shirt wearer, but if I had to do a bunch of welding I would wear a long sleeve shirt. So I wanted sleeves that I could take on and off that would offer protection and durability but were as comfortable as a long sleeve shirt. That's why ours are single layer kevlar so they don't feel hot and bulky, and they have a regular shirt style cuff instead of the thumb hole that many kevlar sleeves have.
What kind of work did you do for NASCAR?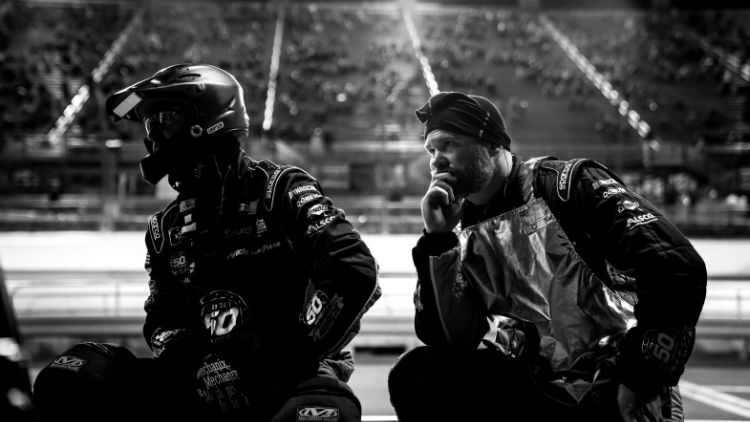 I started in NASCAR in 2005 as a fabricator and a tire carrier on a pit crew. When I started, on a small team you pretty much had to work in the shop as well as travel on the weekends and pit crews had 7 people that went over the wall. I eventually worked my way up from ARCA to Trucks to Xfinity to Cup being both a fabricator and a tire carrier. Over the years the rules changed and the pit crews went from 7 to 6 to now 5 over the wall. When the crews shrunk to 5 I was at Richard Childress Racing and was moved from a tire carrier to a gasman. I retired from racing at the end of 2021 as the gasman on the #3 Cup car driven by Austin Dillon. After all those years and now that I have a family I wanted to spend my weekends at home as well as focus on Defiant Metal and making videos. I have gone and pitted a couple races in 2022 though. But only a couple.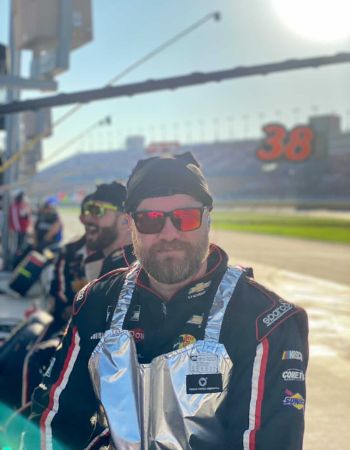 How did you get into that?
I grew up in Iowa with my dad racing IMCA dirt modifieds. When I was around 8 we got a racing go-kart and I started racing them pretty much until I graduated high school. I knew I always wanted to do something in racing, really I wanted to be a driver. I moved to North Carolina after I graduated and went to the NASCAR Technical Institute in Mooresville, NC. My mom was determined I needed to go to college and I don't think she really cared what for. Signing up for that school got me to North Carolina. Once I graduated I went through the hardest part of walking in the front door of every small race team I could find and asking them If they needed help. Finally one said yes.
What was that experience like?
The NASCAR Tech school is a branch of UTI (Universal Technical Institute). UTI is primarily a school that teaches its students to be automotive techs at a car dealership. The whole time I was there most of the instructors (especially the ones in the NASCAR portion with racing experience) would tell you that there was almost zero to no chance that any of us would find a job in racing. I don't think they were being mean or negative, more so just trying to be real. Especially the amount of kids that go to the school and almost none of them have any connection into NASCAR.
I had absolutely no interest in working on regular cars, I wanted to build race cars. So finding that first job not knowing anyone was very hard. When I finally did find that first race team it was for very, very little money. I worked in the shop as a fabricator (our hours were usually 7am-7pm and we all traveled on the weekends. Getting the car through tech and practice. I was also on the pit crew with the other younger guys. I first tried being a tire changer and then ended up being a tire carrier.
How did you learn and develop your metal fabrication skills?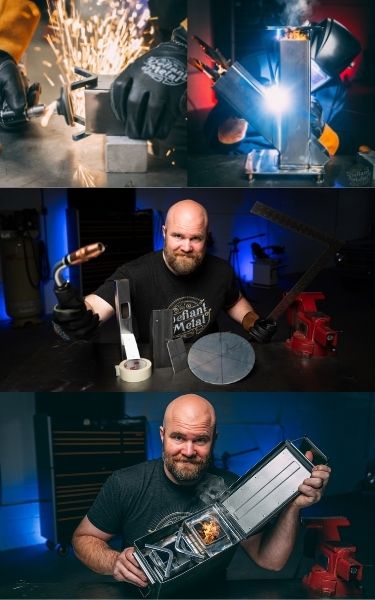 I grew up on a farm and was lucky enough to have a MIG welder there. That's really where I first became interested in working and playing with metal. My dad would let me just sit up there, I don't even know how old I was, probably 7 or younger, and weld scraps of steel together. My High School, Dike-New Hartford in Iowa also had a really great shop class that was taught by Steve Waldstein. Besides all the standard woodworking equipment, we had a foundry, TIG welder, MIG welder, manual lathe and mill, mini cnc lathe and mill as well as a whole computer room for learning drafting and AutoCAD. We also had to program the mini cnc machines by only using X, Y, Z coordinates. The whole time I was there no one knew how to use the TIG welder.
It wasn't until I got to that first race team that I taught myself how to TIG weld. People kept telling me if you can learn to TIG you will always have a job. When I first got there the only person who could TIG at all was our car chief and our crew chief. They were busy setting up race cars so I would take every chance I got to do the projects that needed TIG welding and they would help me set up the machine because at least that meant that they didn't have to do the project themselves. From there on I just kept trying to make my welds look better and better. I also learned finish fabrication, which at the time was creating aluminum crush panels, duct work, cowls, side skirts and all the windows. I would also occasionally create and hang body panels. When I started in racing and up until recently almost every part of the car was handmade in the shop.
What/Who are some of your favorite resources for learning new tricks or techniques?
Ron Covell
What's your favorite tool in your shop?

Any 90* 3" Pneumatic Grinder. 2nd would be my mini hand held belt sander, and 3rd would be my extended cut off wheel. Also my Fronius Magic Wave.
(Shameless plug) What is/are your favorite Empire Abrasives product(s)?
The three that I need for my top three favorite tools to work!
3" quick change discs, ⅜" x 13" Ceramic Sanding Belts, and the 4" x 1/16" cutting discs.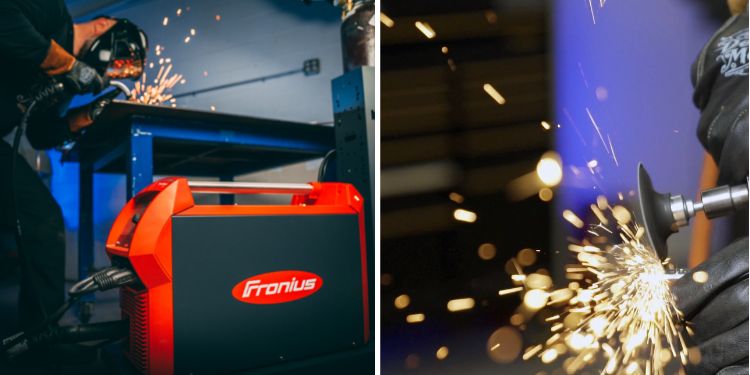 Do you have a dream tool for your shop?
It was a CNC plasma before I got my FastCut CNC Plasma table. Now it would be a manual lathe and mill. I'd obviously like the CNC versions of those, but I think I could do a lot of cool one-off stuff with the older manual versions.
What do you do in your spare time?
Hang out with the family, play video games with my kids.
What is your favorite thing you've created and why?
Race winning race cars. Besides that, whatever I make next.
What are you working on now?
An aluminum LEGO table for my son.
Possibly the most important question…as a North Carolinian, what should we all know about proper BBQ?
Yes, Texas has the best BBQ.
Anything else you'd like to add?
I'd like to thank Empire Abrasives for being a huge supporter of the YouTube Channel. Next to buying the actual metal, abrasives can be the next largest expense of metal working and Empire Abrasives has great quality for the price.
Thank you so much for being such a positive and informative voice in the metalworking community and also for taking the time to do this interview. We're so glad we've been able to work together with you over the years and can't wait to see more from you, your YouTube channel, and Defiant Metal.