Saving money when using cut off wheels mainly comes down to avoiding having to replace discs that wear down too fast, fixing bad/rough cuts, and reducing downtime caused by broken cutting wheels and/or injuries. Below are some tips to help you avoid these issues to get the most out of your cut-off wheels when working with piping.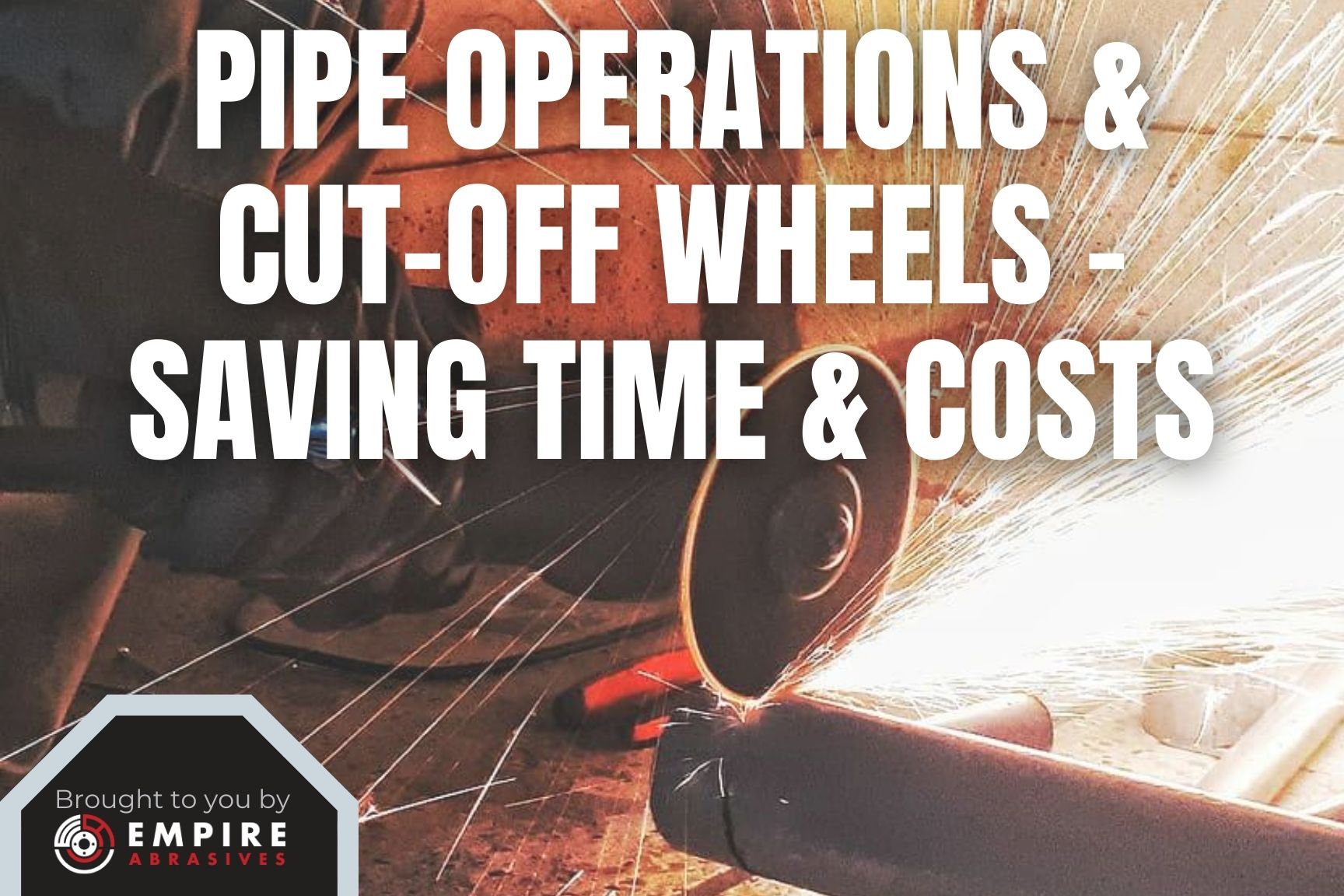 Quality vs Price of Cutting Wheels
A major thing to consider is both the cost and quality of your cutting discs. Cheaper wheels aren't always the best route to take. The quality of a cut, along with the expenses of that cut will affect the quality and expenses of the whole project in a multitude of ways. Cheap wheels often dull quickly, break under pressure or heat, or just don't cut that well.
You want to find a cutting wheel that is both fair in price but also retains high quality. That is why we proudly sell the BHA/Black Hawk Abrasives brand cut off wheels. We offer high-quality discs and focus on keeping them at an affordable price.
When every second counts on a job, a wheel change can cost money and take time from your work. When you have an operator changing their wheels several times a day, that means anywhere from 20-40% of their day (depending upon their speed) can be lost just to wheel changes or having to go back over a job to fix rough cuts from a cheap wheel.
Cutting Disc Size
However, it is also important to remember it's not just the brand and their quality, but also the size of the wheel for the job. If the operator or the foreman has the workers using the wrong wheel it can lead to re-purchasing, corrections, and re-work, or in some cases scrapping a job completely and starting over.
Technically, a large wheel can be used to cut more sizes of pipes, but while bigger may seem more useful, it also comes with problems. Choosing too large of a wheel for the job can create dangerous situations for your operators that can have costly mistakes.
Matching the Pipe Size to the Appropriate Wheel Size
You want to make sure the wheel chosen will cut straight through the pipe's diameter to produce a uniform cut line and a clean weld seam. This will result in saving on rework or the possible use of filler metal to fix a job. It is also best to choose the thinnest wheel possible in order to help reduce both friction and heat. Increased heat and/or friction can drastically reduce the life of the wheel, cause them to break, or damage your piping.
If you are new to pipework or trying to double-check yourself we have a quick guide to help make sure you are matching the right size wheel for the correct pipe size.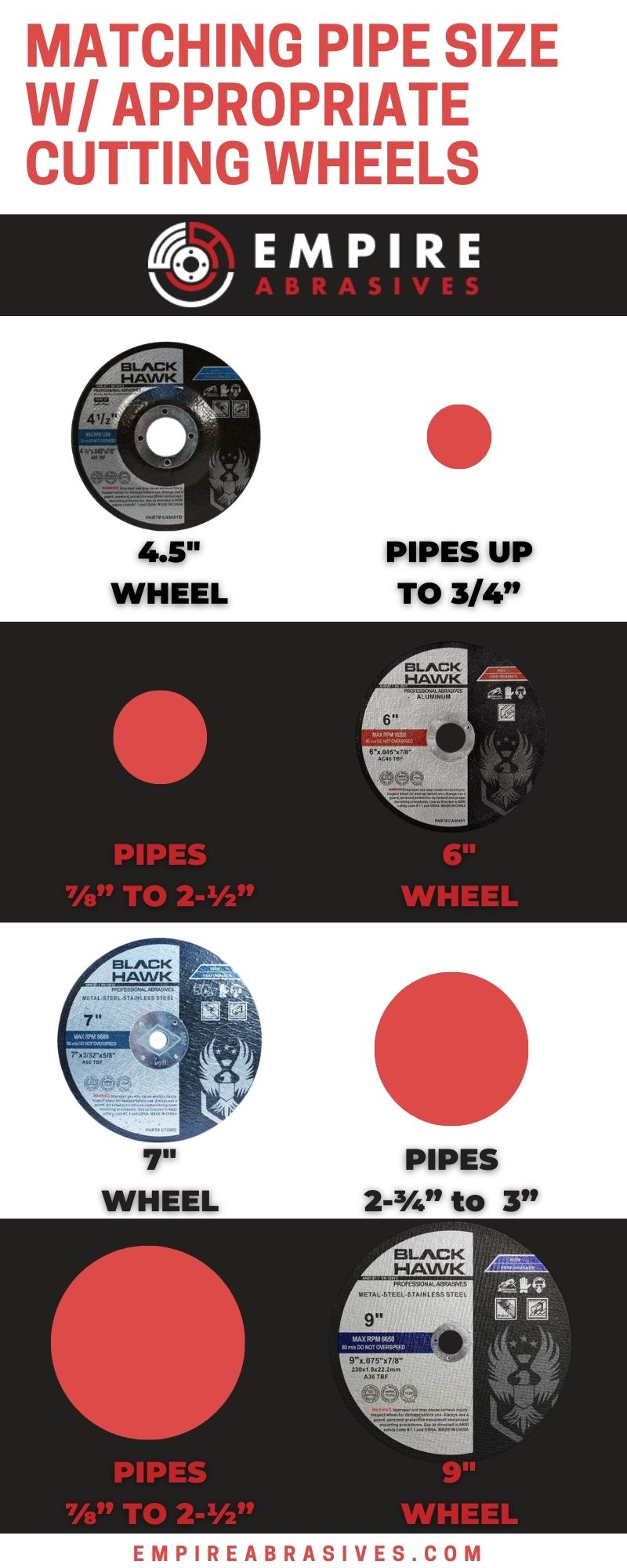 If you are having trouble viewing the infographic above, below are the recommended wheel sizes for cutting different pipe sizes:
Matching the Wheel to Pipe Material
It is important to make sure that the cutting wheel you are purchasing is meant to be used on the material of the pipe you will be cutting. For example, this specific type of cut off wheel for aluminum prevents excess heat buildup or contamination of the aluminum.
You also do not want contaminants causing rust. If you work on a wide variety of materials, it may be more cost-effective in the long run to buy a variety of cutting wheels for your different types of metal you work on.
Proper Cutting Habits
Simply providing proper cutting disc training can really help save workers' time and continue cutting costs. It is important for the operator to know that the wheel should be doing most of the work and they should not try to exert more pressure than necessary. If they are forcing, plunging, or pushing the wheel through the pipe they will put unnecessary strain on the wheel and the pipe itself. Heavy force will not create even, smooth cuts or joints and can often break a cutting wheel.
The operator should start by holding the wheel next to the pipe to gauge how deep the cut needs to be. That depth is decided by the metal's thickness. It is important for the operator to minimize surface contact and use consistent motion rather than pressure when cutting welds and metal. This will help reduce heat and vibration. You can further reduce vibration by cutting as close to the clamp as possible. The operator should still have appropriate safety clearance between themselves and the tool and the clamp. But, the further the distance the greater the vibration. The greater the vibration the greater risk for a breakdown or wheel failure.
Cut-Off Wheel Safety
Improper use of this dangerous tool can easily cause a major safety hazard. Even if it appears to be slowing you down a bit, all recommended cutoff wheel safety practices should be followed at all times. Failure to do so can waste a lot of time and money by stopping work to bandage a wound or rush someone to the emergency room.
Need Help Picking Out the Right Cutting Wheel?
Please do not hesitate to reach out to us. We know how difficult it can be when a few products may work for you and we're here to help guide you as best we can. Please feel free to reach out to one of our experts at Empire Abrasives, 1-800-816-3824. Whether you are experienced or a novice -- we are always happy to lend a helping hand.