What is Surface Conditioning Material?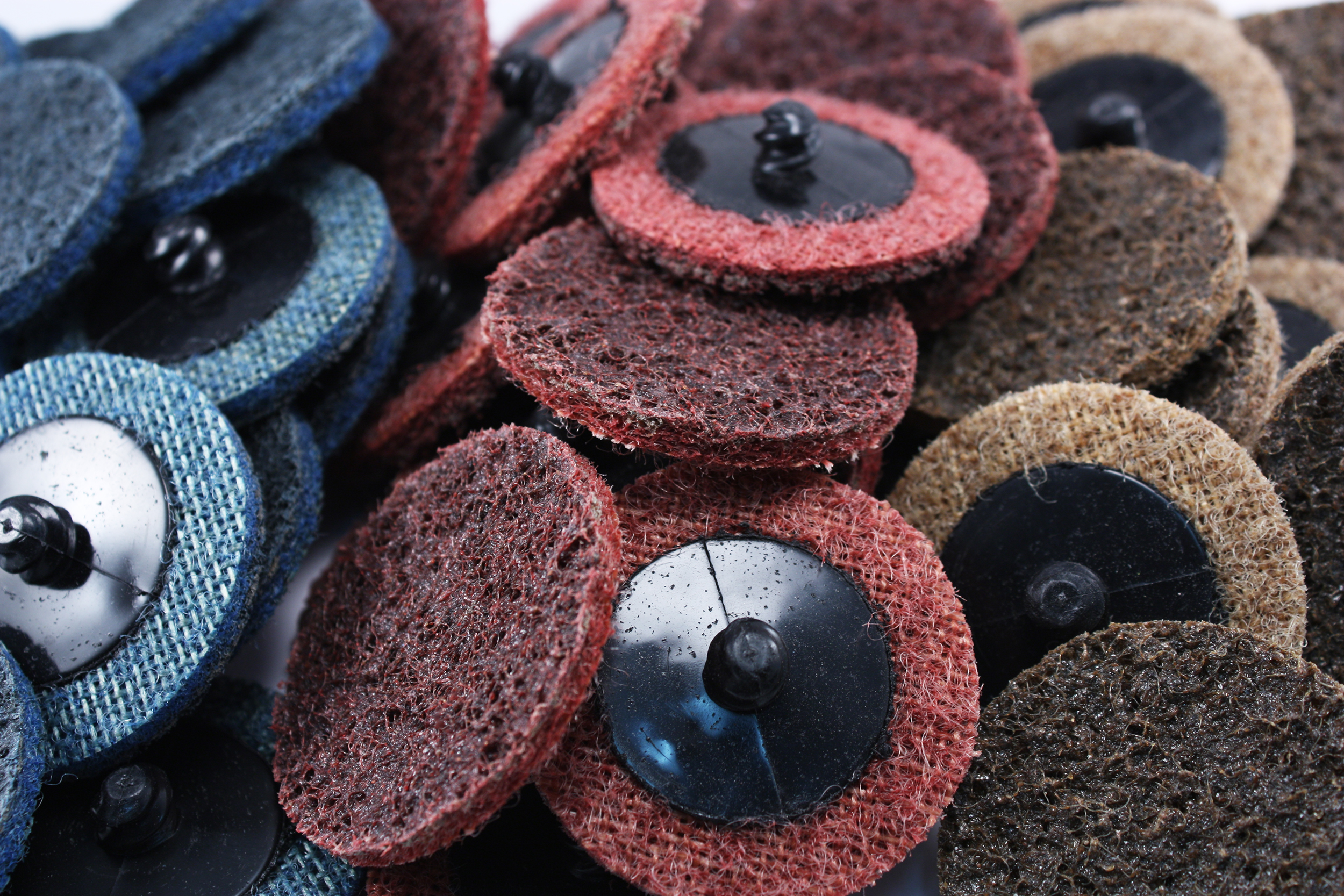 Surface conditioning material is an extremely durable non-woven polymer with a nylon cloth backing. Surface conditioning material is also most commonly known as Scotch-Brite­™.
Although the polymers may be considered "soft," their composition with other abrasive grains such as aluminum oxide, zirconia, ceramic, and titanium oxide will actually scratch glass. They are definitely not the scotch-brite you see being used in standard dish sponges. These are an industrial abrasive surface conditioning material that will help in the production with a consistent, burr-free, smooth and paintable finish with less steps. They also will not damage or significantly change the shape or dimension of the object. The aforementioned durability was specially formulated to resist loading and extend the life of the disc, belt, or pad.
What is Surface Conditioning Material Used For?
Surface conditioning material aka Scotch-Brite™ is used for a lot of applications such as blending, cleaning, deburring, finishing, linishing, and polishing. Using surface conditioning (Scotch-Brite™) pads, wheels, or belts allow you to end up with a very smooth surface with a uniform finish with a lot less work involved. The open structure of the non-woven polymer prevents heat buildup and discoloration as well as resists loads and avoids gouging or undercutting the work piece. In simplest terms it is used to change the patina of a metal surface. You can create a brush or mirror finish to metals such as stainless steel.
How is Scotch-Brite Used in Finishing and Linishing
A great way to use surface conditioning material is to use it for your finishing and linishing. What is linishing? It's similar to finishing and it is the process of using a grinding or belt sanding technique to improve the flatness of a surface. The flatness may be two or one-dimensional. The machine that will do linishing is a linisher or a linish grinder. When using surface conditioning material to finish, you will find it will improve the appearance, become corrosion resistant, tarnish resistant, remove burrs and other surface flaws, as well as control surface friction. An unfinished surface is commonly referred to as a mill finish.
How Do I Finish/Linish with a Surface Conditioning Belt?
When using surface conditioning belts you can both linish and finish, which makes them extremely versatile. They are used in blending, finishing, linishing, polishing, applications on bench /pedestal mounted or handheld finishing / linishing machines. If the operator wants to achieve a perfect mirror finish then they would start with the coarsest (tan), then applying the medium grain (red/maroon), following with the fine grain (blue), and then the ultra fine grain (grey). These surface conditioning belts are often referred to as "a knife maker's secret weapon." These belts are extremely versatile and come in a variety of sizes including:
½" x 1"
½ x 24"
1" x 42"
2" x 36"
2" x 42"
2" x 48"
6" x 48"
What Is a Surface Conditioning Flap Disc and How Do I Use it?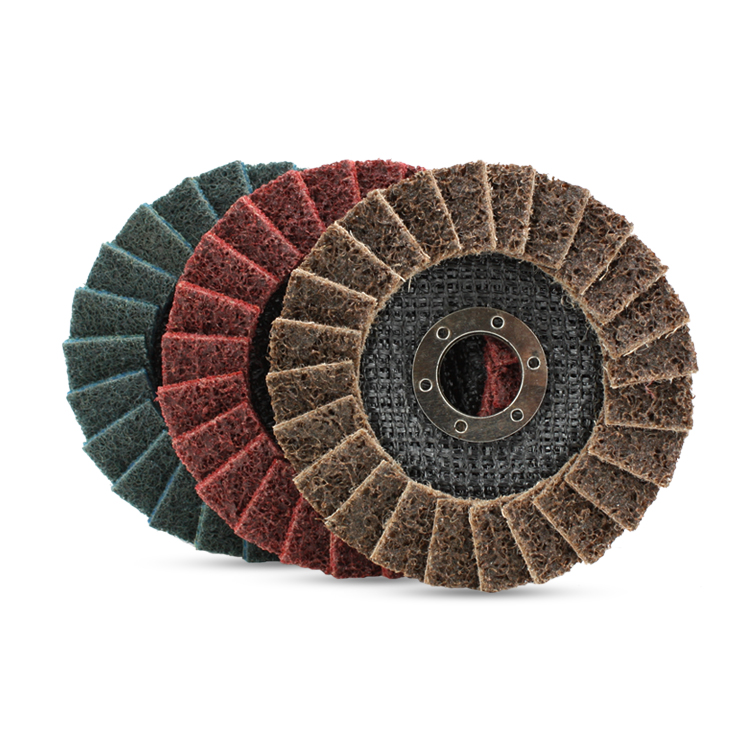 A surface conditioning flap disc allows you to have a more mobile application because it combines the reliability and versatility of a flap disc but with surface conditioning capabilities. They are made from premium, heavy duty, non-woven surface conditioning material. That material has been adhered in an overlapping flap pattern onto a strong fiberglass backing. This will allow the operator to drastically decrease the time for finishing or polishing of their project.
Using the surface conditioning flap discs will provide that same blending and cleaning ability that surface conditioning is known for, but they have a longer life with more consistent finishes provided by the flap disc construction. Surface conditioning flap discs are great because as the nylon material begins to wear down, it will fall away and this allows for new material to be exposed from below which will allow the flap disc to perform with consistent results. This also will provide less down time since you will not need to constantly change discs. Your efficiency will increase greatly.
If you are familiar with how zirconia or ceramic resin works it is that similar concept of self renewal to extend the life of the disc and decrease the costs and time spent. These surface conditioning flap discs are typically available in 4-½" x ⅞" Tan (Coarse), Red/Maroon (Medium), and Fine (Blue). They can be attached right to an angle grinder without the need of any backing pad and are a T29 (conical) shape for optimal surface contact during use.
Surface Conditioning Hand Pads
The non-woven surface conditioning hand pads also known as Scotch-Brite­™ pads are a great tool to have in your arsenal as they will never rust and are an excellent alternative to steel wool, wire brushes, sandpaper, and other products for cleaning or finishing tasks by hand.
These surface conditioning hand pads come in various colors that denote grain and usage.
White is a non-abrasive and is primarily used for cleaning.
Grey is ultra fine and a grit range of 800-1000.
Maroon is for general purpose and has a grit range of 360-400.
Green is generally used for industrial scouring and has a grit of 240.
Black is commonly used for stainless steel and has a grit of 150.
Tan is the coarsest grit of 120 and used for heavy duty applications primarily.
We do recommend that if you are ordering the grey and black, please be sure to have them stored separately and labeled as the colors do look very similar. These scotchbrite hand pads have been impregnated with abrasives and provide a fast cut through for rust and discoloration. They also perform fantastically well when used to break down adhesive and most paint coatings. The hand pads can be used on blending, ceramics, composites, cleaning, glass, general purpose cleaning, plastics, porcelain, prep work, rubber, and all metals without damaging the object being worked upon.
How Long Do the Surface Conditioning Hand Pads Last?
Surface conditioning hand pads are specially designed to offer both flexibility and comfortability for an abrasive. They have been designed to be used with water or solvents and will rinse clean for reuse. This design has been optimized for the longest lasting scotch brite material on the market. They don't shred during use nor do they leave fine metal splinters. The hand pads are also resistant to tearing and shredding.
Surface Conditioning Hook and Loop Discs and Their Usage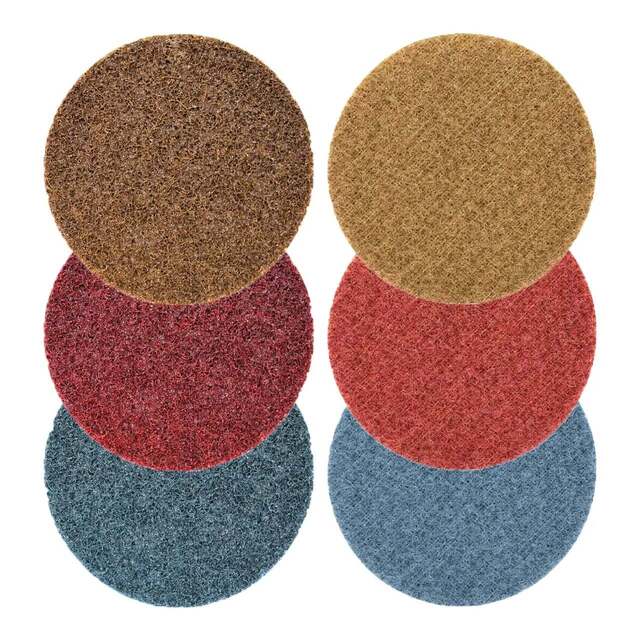 Like Scotch-Brite being a registered trademark for surface conditioning, hook and loop is another name for Velcro. The hook and loop surface conditioning discs attach to a backing pad or to a hook and loop machine and offer the same functionality and versatility as the surface conditioning flap discs.
One of the best aspects of using the surface discs is the flexibility they have during use which will allow them to conform on irregular or contoured surfaces. The scotch brite surface conditioning discs feature another great benefit which is due to the porous nature of the surface conditioning material it will allow airflow during use and can be used on heat-sensitive metal for polishing, grinding, finishing, blending, and deburring.
They are available in 5" pack of 10 and 7" pack of 10 and are available in tan, maroon, and blue.
Surface Conditioning Quick Change Discs and Their Usage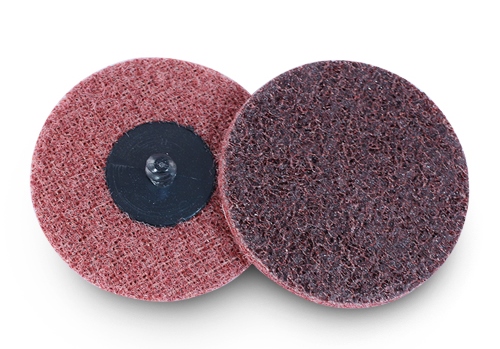 Surface conditioning quick change discs are also called Scotch-Brite™ Roloc™ discs and offer the same versatility and capabilities of the surface conditioning flap discs, but the roloc screw straight on to a standard die grinder and used with a roloc backing pad. Their small size of 2" or 3" allows the operator to access small and tight spaces where the larger flap disc wont.
The 2" surface conditioning discs come in a pack of 25 in tan, maroon, and blue. You can also find the 3" surface conditioning disc in a pack of 25 in tan, maroon, and blue as well.
Interleaf Flap Surface Conditioning Products
Sometimes you just want to kill two birds with one stone when it comes to using abrasive products. That's exactly what interleaf flap products were made for.
You can find these types of products in a variety of styles for different tools, like a die grinder interleaf flap wheel or an interleaf flap wheel drum for an Eastwood SCT tool. In essence, they have the same purpose for different projects.
These abrasives are constructed with flaps of sandpaper jutting out from the centerpiece of the tool, just as a typical flap wheel would. The difference with these is that the gaps are filled with the nylon surface conditioning material.
As the wheel or drum grinds against a metal surface, the abrasive flaps have a grit strong enough to sand down the surface and remove rust, paint, or body filler. At the same time, the Scotch-Brite material is also working to blend and smooth the surface getting it ready for the next step in less time.
Chat With Our Team of experts
If you aren't sure which surface conditioning color is appropriate for your project or if you can use surface conditioning on your project then please chat with one of our experts today. We are always happy to help our customers. Find our chat on the bottom right corner of our website. You can also fill out or contact form or call us at 1-800-816-3824