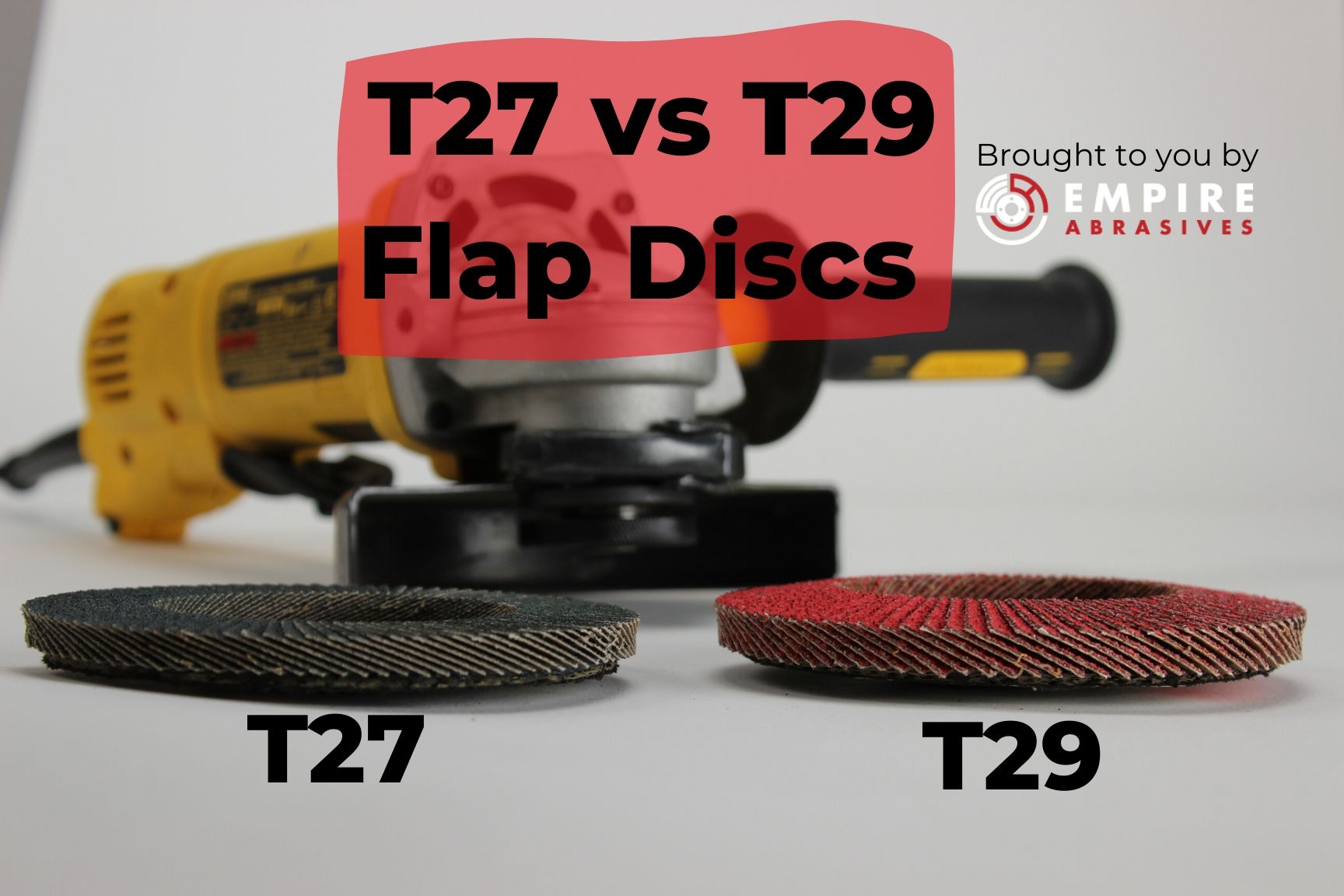 What is a Flap Disc?
A Flap disc, which is distinctively different from a flap wheel, is an abrasive disc that is used with die grinders and angle grinders. They're designed with overlapping coated abrasive flaps, that look like overlapped pieces of sandpaper, attached radially to a backing plate. They also have an open center hole, screw on-screw off hub, or a quick change attachment.
Unlike conventional grinding wheels, flap discs are made up of flaps of abrasive materials. This makes them available in various types of materials as well as a wide range of grits.
While flap discs vary in size, abrasive material, and grit, they also vary in an important factor that affect different grinding needs. That is the angle of the discs. The two types known as T27 and T29 discs are what we'll compare in this article.
For a more in-depth look at Flap Discs themselves you can find our full flap disc guide on our blog.
What is a Flap Disc Used For?
If you're new to angle grinders it is good to know that these are an extremely popular abrasive tool for the angle grinder. Flap discs are favored among operators due the fact that flap discs are lighter in weight, easier to control, and they feature cooler cutting which is visible in its reduced gouging and burning. They are used for surface blending, removing paint from metal, smoothing, edge, and contour work. It's a handy tool that can be used in place of sanding discs or grinding wheels quickly with a lot of the same outcomes.
What is a T27 Flap Disc?
T27 is the flat flap disc of the two different types of discs.
They work best from a 0-15° angle and are the best suited for smooth finishing. The flat-angled flap discs are primarily used on flatter surfaces. They are extremely popular and lauded the best choice for smoothing and blending.
For a more complete finish, we also offer polishing flap discs made of Australian wool felt flaps arranged in the same style as our abrasive flap discs.
Pros:
Better for smoothing and blending
Superior for flat sanding
Cons:
Not good for contour work or shaping
Not as effective for stock removal
What is a T29 Flap Disc?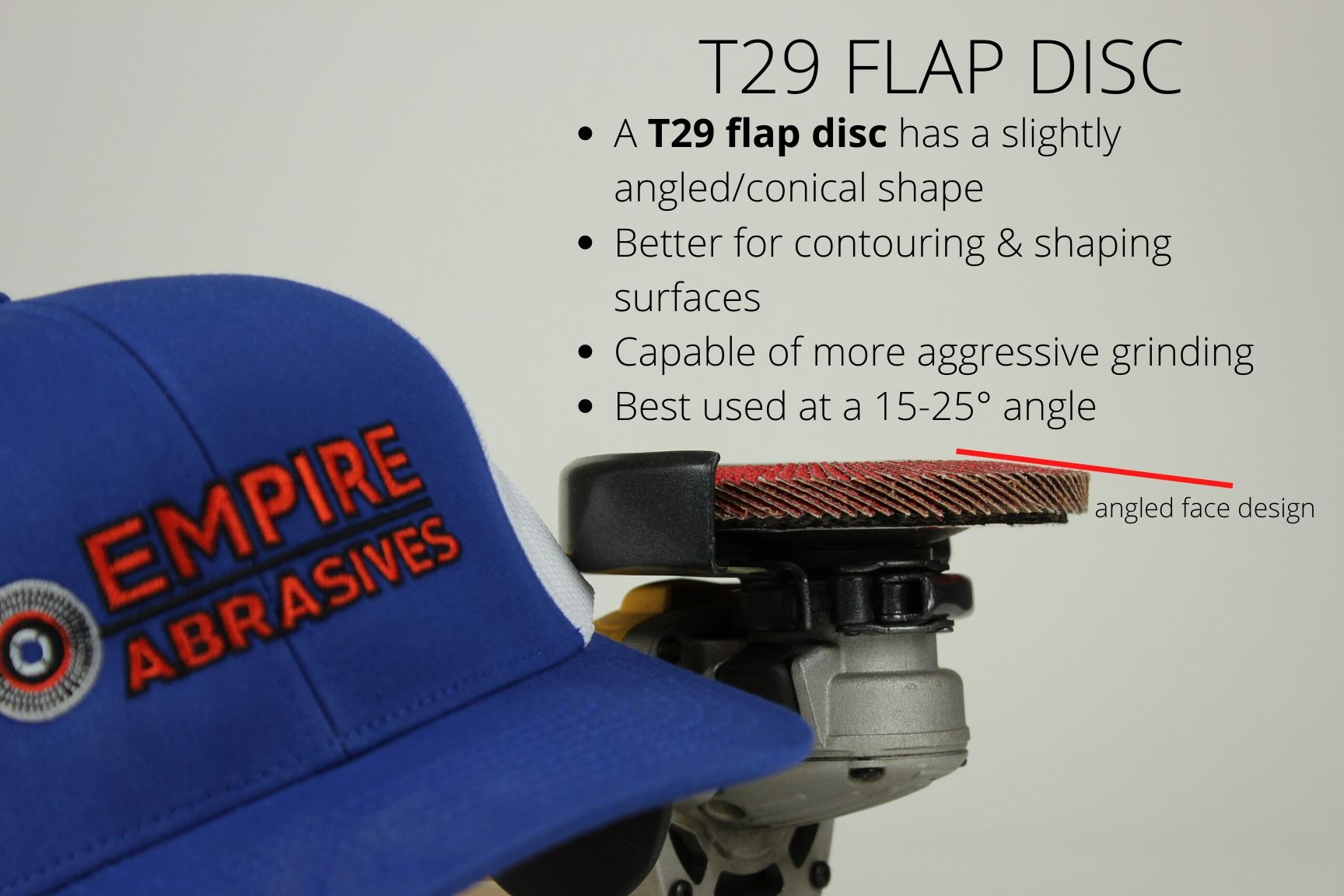 A T29 Flap Disc has a conical shape and has an angle when you look across the abrasive material.
They work from an angle of 15-25°. This angle allows the T29 flap disc to be used for both edge and contouring work. They are favored due to the angle that allows for the operator to have greater surface coverage for stock removal on flat surfaces.
The curved angle of the T29 Flap Disc allows for more leverage and thus more pressure in their use which would allow the user to grind more aggressively than with the T27 Flap Disc. The angle of a T29 Flap Disc also allows for polishing and grinding at one time increasing productivity of the operator.
Pros:
Superior for contouring and shaping
Better angle for heavy stock removal
Grinding and blending with one disc
More aggressive when grinding
Cons
Inferior when used on flat surfaces
Less effective at smoothing and blending
T27 vs T29 Flap Disc (side by side comparisons)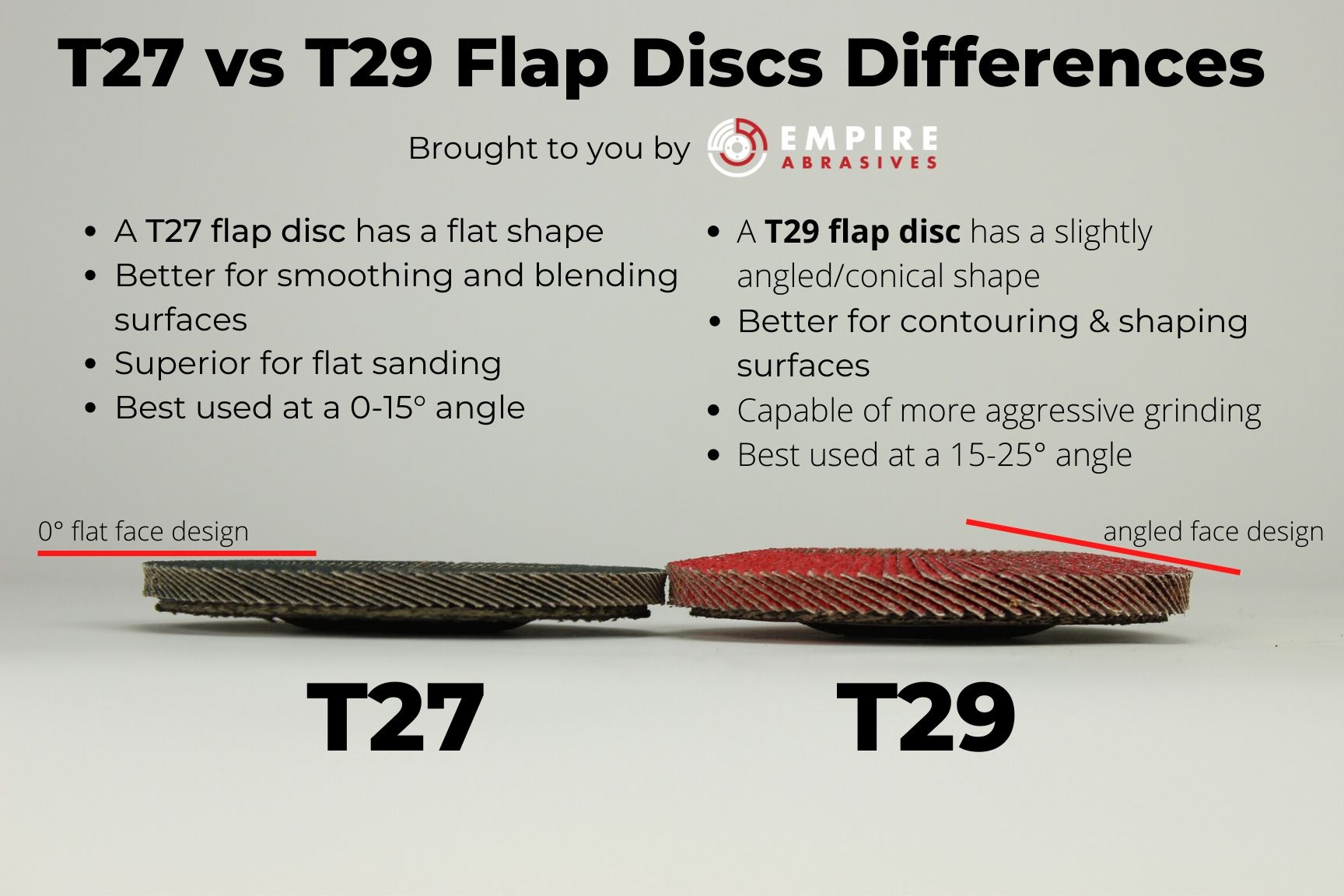 As you can see in this side by side comparison of a T27 flap disc and a T29 flap disc, the face of the sanding discs have a different shape. The T27 discs are completely flat while there is a slight angle/conical shape to the T29 disc face.
Why Choose a High Density T27 Flap Disc or T29 Flap Disc?
At Empire Abrasives we want to offer our customers the best products and one of those is our High Density XL Flap Discs that come in T27 and T29. These Flap Discs come in both Zirconia and Ceramic and are longer lasting than a standard flap disc. This will allow the operator to do more with less disc changes. Your productivity increases as does the life of the disc when you buy the XL High Density flap disc. These are perfect for both commercial and non-commercial use.
Which one should you buy?
While using them can boil down to preference it is also good to take a look at the project you are trying to complete to choose the right disc for your work. The T29 is the best choice if you're working on a contoured surface or looking at speed and stock removal as the primary function. Whereas, the T27 would be the best choice for quickly working on flat surfaces or blending and smoothing your finishes.
Chat With Our Team of experts
Still have some questions or not sure which flap disc is right for you? You can chat with an expert from 9-5 EST on our website or fill out our contact form.