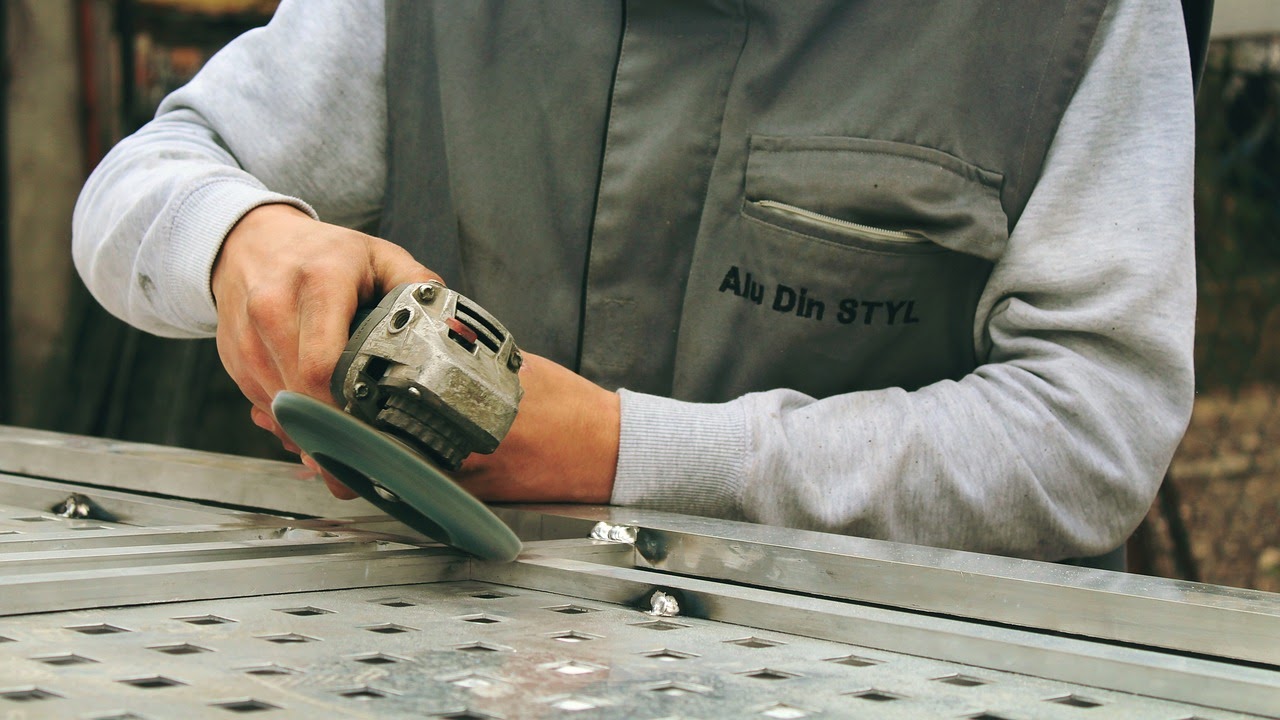 What is a Flap Disc?
Not to be confused with a flap wheel, a flap disc is an abrasive disc designed to work with angle grinders and die grinders. They are made up of overlapping coated abrasive flaps attached radially to a backing plate often made up of fiberglass or plastic and featuring either an open center hole, screw on-screw off hub, or quick change attachment.
The overlapping layers make it so that when one layer is worn down, a fresh abrasive sheet is immediately available to continue work without needing to change out tools. Flap discs alone are capable of doing a lot of work that would require switching back and forth between grinding wheels and fiber discs.
These discs are typically made with sanding sheets coated with aluminum oxide, zirconia, silicon carbide or ceramic abrasive grains, but also come non-woven surface conditioning material, interleaf and felt (non abrasive) varieties. The most common flap discs are made of zirconia for grinding and finishing in one step. They are usually available in 40, 60, 80, or 120 grit which the operator would select depending on their material or project goal.
Benefits of Flap Discs Versus Grinding Discs
Lighter pressure needed to achieve results
Less vibration and noise than a grinding wheel
Cooler grinding temperatures
Cost-effective
Last longer than fiber discs
Consistent rate of stock removal
Lightweight and easy to maneuver
Less gouging than other discs
Provides maximum contact with work surface
What are Flap Discs Used For?
Flap discs provide an efficient and economical option for grinding, blending, and finishing with a single-use tool. They are a popular tool among metal workers and welders but have uses on other surfaces as well. With the right choice, you will save yourself a great deal of time and effort.
Common Flap Disc Uses
Fast weld and stock removal in metal fabrication use
Blending of a weld
Deflashing
Blending or finishing metal surfaces
Deburring steel and stainless steel
Paint and rust removal
Smoothing and shaping wood
Concrete polishing and edge work
(Certain discs) Shining and polishing
Edge chamfering
Standard VS High Density Alpha Discs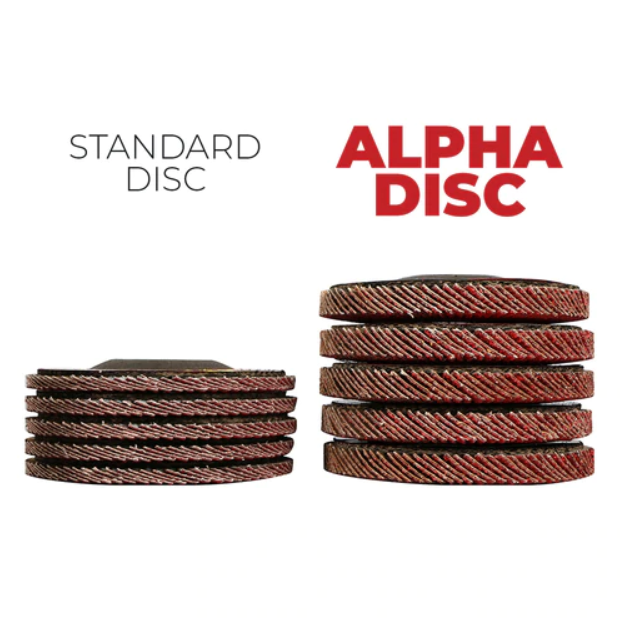 Flap Discs come in a variety of sizes, grits, and materials as we all know. The most common material used is zirconia because of its reliability and multi-purposed benefits. When looking through all of your options, you will notice one difference when browsing through zirconia flap discs - a standard or high density option.
Standard density is exactly what you expect - the basic thickness zirconia flap disc. These are typically made with 72 flaps that measure between 16mm and 18mm in length and between 22mm and 25mm in width. High density flap discs on the other hand feature 86 flaps or greater, depending on the grit, with each flap measuring between 20mm and 22mm in length, and between 25mm - 27mm in width.
The most elite and long lasting option of the high density flap discs are the extra large BHA Alpha Ceramic Flap Discs. This beefy, extra large flap disc combines the increased material of a high density flap disc with the technological superiority of premium polyester flaps and ceramic abrasive grains.
T27 vs T29 Flap Discs
Besides grit size, abrasive material, and flap disc backing plates, the other thing to consider when shopping for flap discs is whether you need a type 27 (A.K.A. T27 or a type 29 (A.K.A. T29 ) flap disc. These "types" delineate a shape that the flaps are arranged in which offer different benefits when used on an angle grinder. There will be more detail below but in short, the T27's have flat flaps where the T29's offer a slight angle. As previously stated both offer some benefits but the differences are subtle enough that many users will typically decide which type based on preference.
T27 Flap Discs - Flat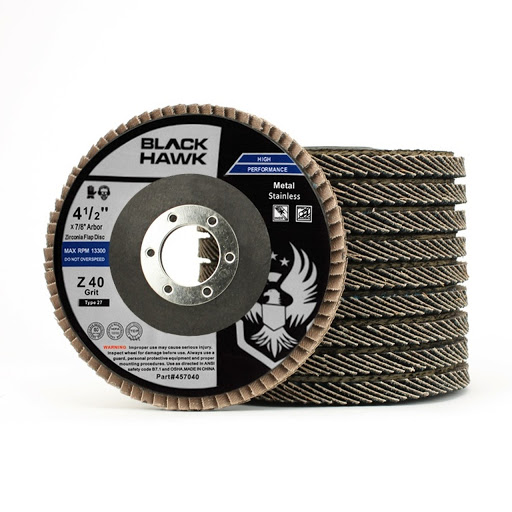 Type 27, or T27 flap discs, are a flat-shaped abrasive. They provide no angle which makes these better for detailed work as opposed to the fast material removal that T29 discs provide.
T27 discs are best for jobs that require blending and smooth finishing on flat surfaces. They are also better suited for working on more intricate surfaces. This type of flap disc should be used at 0°-15° angle.
T29 Flap Discs - Conical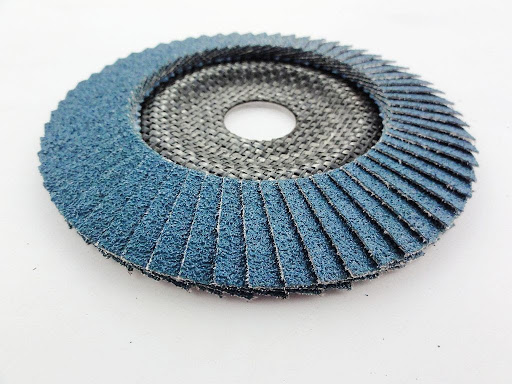 Type 29, or T29 flap discs, are designed with a conical or angled shape. Instead of lying flat, the edges flare out, angled at 10 degrees. This angle also allows the tool to create a larger surface contact area on flat surfaces.
T29 discs are best used for aggressive heavy-duty stock removal, on contoured surfaces, and edge work. Type 29 flap discs should be used at 15°-25° angle.
For more information, read our full guide to type 27 vs type 29 discs.
Flap Discs for Aluminum
Since aluminum is a softer metal, it provides an interesting set of obstacles. For one thing, aluminum can be ground away more easily, so you must be careful of gouging your workpiece. Secondly, the aluminum may "gum up" or clog the abrasive as it wears away. This will significantly shorten the useful life of your flap disc. Both of these issues can be easily mitigated by using the correct disc. A flap disc such as BHA Flap Disc for Aluminum features a calcium stearate coating which not only protects the workpiece from heat and inconsistent grinding but also prevents loading of the disc which increases the lifetime of the disc.
Just as any other flap discs, these are also offered in a T27 and T29. As previously mentioned the main differences between these two types is the shape. While the T27 is flat the T29 is angled for different types of grinding and finishing.
Surface Conditioning Flap Discs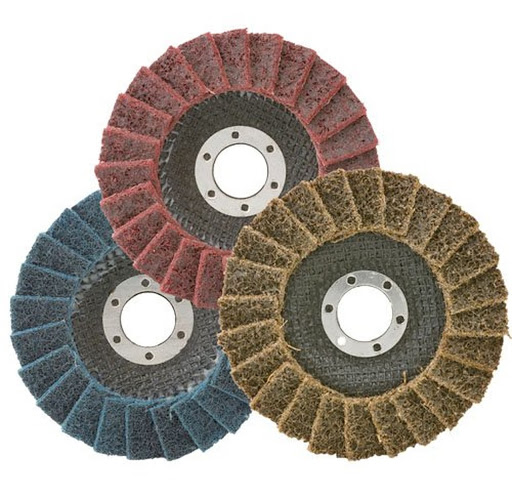 Surface Conditioning flap discs combine the best of two worlds. They offer the benefits of standard flap discs design which exposes new effect abrasives as old abrasives are worn down, with the flexible surface preparation capabilities of non woven materials. This means they not only blend and clean surfaces effectively but they also last an extremely long time compared to standard, flat, surface conditioning discs.
These discs are available in coarse (tan color), medium (red - maroon color), or fine (blue color) and work well when used on stainless steel, standard or alloyed steel, non-ferrous metals and alloys, plastic, and even fiberglass.
Felt Polishing Flap Discs
While flap discs are generally constructed using an abrasive, typically one made of pieces of sandpaper, some discs are better equipped for the finer things in life (get it?), Jobs for polishing and extremely fine finishing require an even finer flap material to get glossier polish without using abrasive materials. The new BHA polish plus discs offer just the thing with felt material flaps that are perfect for final stage polishing.
Instead of having a rough abrasive like ceramic or zirconia, felt flap discs are made with a strong Australian wool. This is a flexible and forgiving material that works on almost any surface with polishing pastes or compounds to provide the best end-results possible.
Mini Flap Discs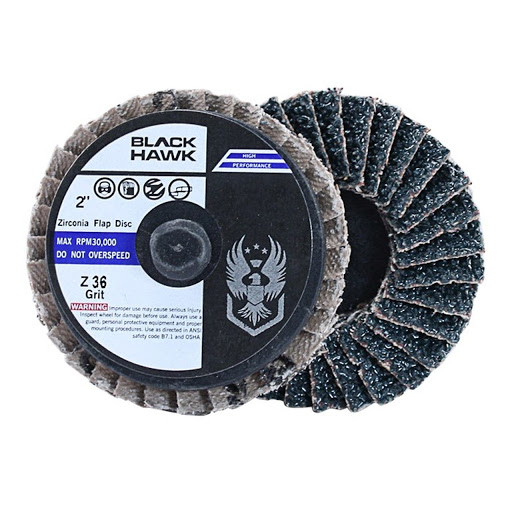 Sometimes an angle grinder isn't always available for use, you just haven't gotten around to purchasing one, or the job is too small. That's where mini flap discs come in - perfect for a die grinder. They come with all the benefits and versatility of a flap disc but now come in a smaller size and a roloc, quick change backing for use in smaller or tight areas.
Mini quick change flap discs create less loading during use than standard quick change sanding discs creating a more consistent grind. The flap disc construction also expands the lifetime between 10-20 times longer than standard discs. These discs are offered in a 2 inch or 3 inch size and are great for stock removal, finishing and polishing, and blending all in tight areas.
Curved/Rounded Edge Flap Discs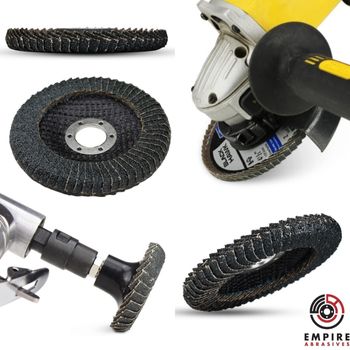 Generally speaking, a flap disc is one of the most versatile abrasive products given their affordability, durability, and grinding abilities. That being said, one of the reasons a metalworker or welder would consider a grinding wheel over a flap disc would be the ability for a grinding wheel to grind into tight corners and fillet welds. This is because the grinding surface area of a grinding wheel is around the edge of the disc, which allows it to reach those areas, which a regular flap disc can't.
A new specialty flap disc has been designed to increase the grinding area of a flap disc by wrapping the abrasive material around the edges. These rounded edge/curved flap discs can grind on the face of the disc PLUS using the edge to get into those tight areas.
Chat With Our Team of experts
Not completely positive what discs you need for your projects? Chat with one of our experts today. Find our chat in the bottom right of our website or fill out our contact form.